PRESS RELEASE
Tactical Electronics will reveal a new addition to their CORE Camera line at SHOT Show 2018
---
Tactical Electronics is excited to announce that they will be at the SHOT Show in Las Vegas next week. Come by and visit Tactical Electronics at booth #7311. Tactical Electronics will be revealing an exciting new addition to their CORE Camera line that you do not want to miss. In addition to CORE Cameras, they will also have their EOD Tools and Kits on display.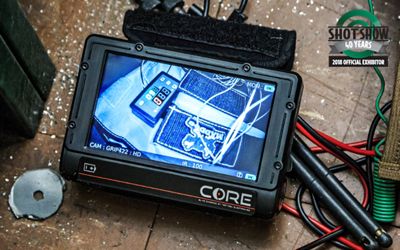 Core Cameras
Tactical Electronics CORE product line improves the way you perform tactical inspections by delivering the most advanced cameras, thermal fusion technology, and unsurpassed modularity.  CORE features Wireless, High Definition, Digitally Encrypted Cameras and Monitors.
The CORE system is completely modular and allows you to attach 4 different camera necks to a CORE Grip or Pole Grip. Video from all CORE cameras is streamed wirelessly (5 GHz) to any CORE monitor over an AES encrypted channel.
About Tactical Electronics
Tactical Electronics provides wireless camera systems, IED training aids, EOD tools, and training to law enforcement and military agencies. For over a decade Tactical Electronics has been a reliable resource to lead law enforcement agencies and trend-setting military groups. Whether we are providing high-level electronics training or designing top-notch products, our goal is to deliver safety to those who protect us.

Request more info from Tactical Electronics and Military Supply
Thank You!