PRESS RELEASE
Zodiacs Rally to Help in Pakistan Flood and Company Proposes Emergency Reserve for Future Incidents
---
Nearly 80 Zodiac inflatable and semi rigid boats have been enlisted to provide vital assistance for rescue and support operations tackling the effects of the floods in Pakistan. Zodiac MILPRO has been able to provide the boats at short notice by drawing on the inventory that the company and its agents permanently maintain to meet the urgent operational needs of customers. The boats were gathered in a major logistical operation and shipped to key destinations in Pakistan where they are now performing vital rescue and supply work for the flood-stricken population.
use if there is a picture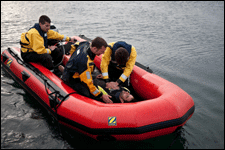 end picture
A variety of different Zodiac boats have been taken from the company's inventories held in Europe, Middle East and North America. These are maintained to ensure that customers can count-on almost immediate delivery when they place an order anywhere in the world. There are over 40 different models in the Zodiac MILPRO (Military and Professional) range but a substantial part of the delivery to Pakistan has consisted of Zodiac Futura Commando 470 inflatables. These are 4.7 metre (15 ft 5 inches) open boats capable of carrying up to 10 people and are powered by a single 40-horsepower outboard motor. They are operated extensively by armed forces throughout the world and their widespread use has proved a major benefit for the personnel using the boats as their familiarity makes them easier to work with.
The experience gained by Zodiac from supplying boats to support other major incidents, such as the aftermath of Hurricane Katrina in New Orleans, has led to the design of a new Emergency Rescue Boat. The ERB range consists of three models and incorporates the lessons learned from Zodiac boat operations during a number of demanding emergency situations. It introduces some valuable new features such as a high pressure floor that can be rapidly inflated from a scuba diving tank. Only a handful of these new boats has been available for deployment in Pakistan but these ERB models are now expected to become familiar features of any future incidents as their use becomes more widespread.
Zodiac MILPRO is now proposing the introduction of an innovative shared reserve inventory system for countries and organisations that might require boats for emergency purposes. The idea would result in a group of participants contributing towards a stock of boats that would be available for immediate despatch to wherever they are needed. The scheme might function on similar lines as the UNO reserve of food rations that the organisation keeps permanently available. For participants it would provide the reassurance of knowing that boats are available but without the problems that can be created if budgets are tight when they are needed. The scheme is in its early stages of development but it is believed that the cost of the inventory could be shared among participating organisations and that it would be lower than the outlay required for outright permanent ownership.
Zodiac MILPRO (Military and Professional) is part of the Zodiac Marine & Pool Group which operates in three sectors that provide a comprehensive service to their specialised markets. The Zodiac Military and Professional (MILPRO) sector supplies inflatable and semi-rigid craft for professional users such as police, coast guard, special forces, anti-terrorism units, fire teams, the offshore industry and other military users. The boats it manufactures range from 4. 7m to 12m long and are available in configurations that include inflatable and rigid inflatable boats with aluminium or fibreglass hull designs, inflatable or foam tubes, diesel inboard or petrol outboard engines. The Zodiac SOLAS sector supplies life rafts for merchant ships, ferries, and cruise ships and complete rescue systems combining escape slides and rafts. The Zodiac Recreational sector manufactures inflatable and semi-rigid craft that are distributed under the Zodiac®, Bombard® and Avon® brands.