PRESS RELEASE
AI-Powered FastRedaction.com Launches at 2017 IACP Tech Conference
---
PHILADELPHIA — At the 2017 IACP Tech Conference, Intrinsics Imaging Inc. announced the launch of FastRedaction.com, declaring it the world's fastest, most automated video redaction solution, and the only way to redact entirely online.
As body cameras gain widespread adoption, police departments around the country face a new challenge: redacting videos for public release. In 2015, DC Metropolitan Police Chief Cathy Lanier testified that "the technology to redact video to protect privacy in an economically practical manner does not currently exist," adding that it requires a laborious, "subjective, frame-by-frame review."
With the launch of FastRedaction.com, Intrinsics aims to change that perception completely by providing a fast, inexpensive, and highly secure way for law enforcement to protect privacy and increase transparency.
"Police departments across the country told us they want to release more video, but lack the tools to do it efficiently. That's why we built FastRedaction.com," said Eric Cheng, Intrinsics CEO. "With FastRedaction.com, departments can now leverage the world's best Artificial Intelligence (AI) algorithms to cut their redacting time up to 90% -- using just a web browser." Cheng added that for the first-time agencies can redact bodycam, dashcam, or even mobile phone videos without purchasing software, specialized hardware, or signing contracts.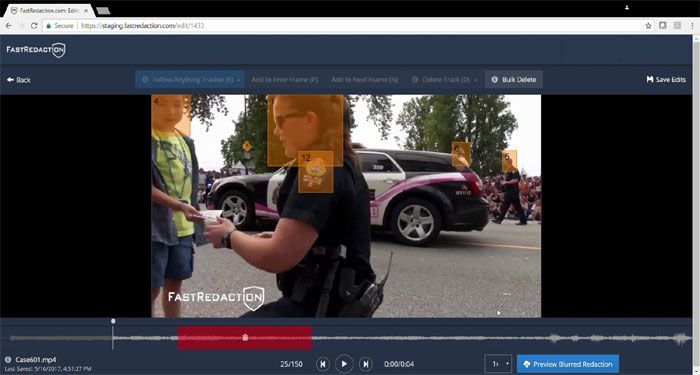 FastRedaction.com allows officers to redact audio and video entirely from within a web browser.
In a live demonstration, the fastredaction.com team showed the access controls, encryption, auditing, and accountability that ensure alignment with the FBI's Criminal Justice Information Service (CJIS) Security Policy. They showed how faces are automatically redacted as the video is uploaded. When they opened the video for editing, faces were already masked and marked with track numbers. They showed easily-discovered tools provided for editing the redaction, including a "Follow-Anything Tracker" that allows the user to drag a box on top of any object such as a license plate or house number, and automatically propagate the masked object through the rest of the video. Frame-level controls for manual editing are built for very fast additions and corrections.
Cheng said he enlisted the help of several agencies during the design and test phases. Among those agencies was the Lynchburg Police Department, where Network Administrator Rob Burdeaux led their beta test effort. "I would definitely recommend fastredaction to others" said Burdeaux. "The auto redaction feature in particular is excellent and unaffected by brief obscurations."
As he concluded the demonstration, Cheng invited all to experience the free trial at fastredaction.com. "Upload any video up to five minutes long to experience auto-redaction, unlimited editing, and unlimited download of the redacted product without charge."
About Intrinsics Imaging Inc.
Intrinsics Imaging Inc. is a small California business devoted to creating computer vision software for enhanced public safety. The company builds on years of advanced defense and aerospace development to meet the most critical needs faced by law enforcement today. Their latest project, FastRedaction.com, was introduced at IACP 2017.