PRESS RELEASE
CopTrax™ introduces Model S body worn camera
---
The Model S camera by Applied Concepts has an automatic, hands-free upload and single start/stop button to keep it simple for law enforcement officers
RICHARDSON, Texas — Applied Concepts, Inc. proudly introduces its Stalker CopTrax™ Model S body-worn camera, purpose built for demanding law enforcement applications. The Model S combines state-of-the-art video capture with durability and ease of use that leads the industry. In addition to crystal-clear video images, the Model S provides exceptional battery life and automatic, hands-off evidence upload along with a single "start/stop" button, which guarantees reliability and ease of use the first time and every time.
"Our goal in designing the Model S was to make the most advanced video camera technology instantly and reliably available to law enforcement at the touch of a button. In this regard, we have exceeded our projections," said Russell Kautz, ACI's Chief Technology Officer.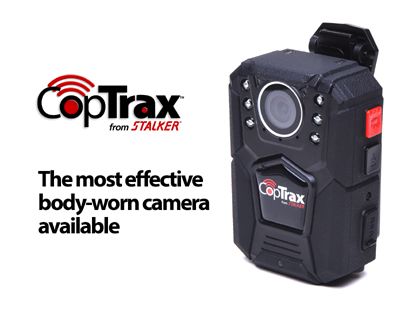 The Model S, with up to 11 hours of continuous recording on a single charge, offers an array of features so simple and easy to use that it can be deployed the same day it is delivered. Whether your department needs a single camera part time, or hundreds of cameras working together 24/7, the Model S coupled with the included CopTrax™ Body Camera Device Manager, easily classifies, tags, stores, archives, and distributes all video evidence in a completely secure environment, guarantying a verifiable chain of custody that will satisfy even the most demanding judge. Unlike some others offering bodyworn cameras, ACI does not control where and how you store your data. ACI works with your department to find the most economical and reliable data storage solution, whether that is your existing server infrastructure, an existing account with a CJIS-certified cloud network, or a newly created CJIScertified Microsoft Azure Cloud storage account managed by ACI on your behalf.
Features that you didn't know you couldn't live without include automatic event upload, pre- and post-event recording, infrared LEDs, 128° field of view, 32Gb storage, HD 1080p resolution, and IP65 standard dust and water proofing.
Finally, for departments desiring a more comprehensive solution, the Model S integrates effortlessly with CopTrax™ In-Car Video, CopTrax™ Interview Room, and the CopTrax™ Command and Control Center. With the CopTrax™ suite of services, a department can monitor live, streaming in-car video from any Internet-connected computer, play back recorded videos with GPS location displayed on a map overlay, and set up automatic geo-fences and perimeter boundaries. There is simply no better law enforcement video solution.
Alan Mead, ACI's Chief Executive Officer said: "ACI's Stalker brand radar and lidar systems have long been leaders in speed enforcement throughout the world. Our Model S body camera allows us now to position ourselves at the forefront of this life- and career-saving technology." The Model S body-worn camera is a product from Applied Concepts Inc., / Stalker Radar, the world leader and innovator in law enforcement radar and laser. Founded in 1977, Applied Concepts introduced the first Stalker Radar to the law enforcement industry in 1989.

Request more info from CopTrax from Stalker Radar
Thank You!