3 tactical pants to fit any mission without breaking the budget
New options from LAPG provide the features and fit you need on the job at a reasonable price
---
Sponsored by LAPG
By Warren Wilson for Police1 BrandFocus
Most cops will be familiar with LA Police Gear, or LAPG as they are better known, because cops like acronyms almost as we much as we like gear. I'm certainly familiar with LAPG. A few years ago, they sent me a thank-you note for spending over $1,000 with them over the years. They're an authorized dealer of 5.11 Tactical, Surefire, Safariland and all of the usual suspects in law enforcement products – as well as their own label.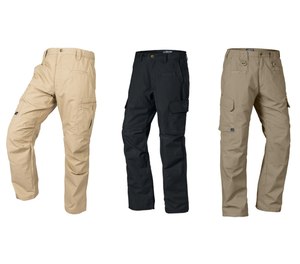 LAPG was founded in 2001 for cops by cops with the intent of creating a one-stop shop for all law enforcement product needs with a special focus on service. Looking back on all of those orders I made, I never once had an issue.
Delivering value for the money 
I've spent the most money on the LAPG brand head-to-toe line of tactical gear, especially the pants. They also offer footwear, bags, knives, flashlights and just about anything you might need on the job. I have several LAPG backpacks, plate carriers, range gear and tactical bags, and I wear LAPG pants almost every day.
I was a little incredulous when I bought my first pair of LAPG house-label pants – one out of the estimated million they've sold. In a world where it's easy to spend up to $100 on a pair of multi-pocket pants, once I got these I found myself asking why I would? My LAPG pants look just as good and last just as long as the big-name brands.
The key to the cost reduction is that they are the distributor and the dealer, which cuts out the middleman. Also, they don't include the superfluous features that many manufacturers do. The folks at LAPG know, through their own experience as law enforcement officers and through the feedback of their customers, which features are actually needed and which are not. That helps cut the manufacturing cost as well. The end result is quality stuff at cop-friendly prices.
"We figure out what extra features have been put on that the consumer really doesn't care about," said Sean Frank, president of LAPG and a former patrol and SWAT officer. "By getting rid of that useless stuff, we're able to get the price down. Our focus is on value and fit, and then we fix things that maybe people are complaining about with other similar products as well. In some cases we're adding features that no one else seems to be adding."
Finding the right pants for your needs 
LAPG continues to evolve their house-label products, with the Basic Operator Pant, the Urban Ops Tactical Pant and the Atlas Tactical Pant. They sent me a pair of each to try out.
At first blush, these pants seem pretty similar to each other. They are all made of 65% polyester/35% cotton rip-stop fabric. They all have front pockets optimized for clip-carrying a knife or flashlight and D-rings to clip keys, IDs or whatever suits you. They all have YKK zippers and brass stud closure buttons.
Digging a little deeper, I found that these pants have different features that serve different functions.
Basic Operator Pant: The Basic Operator Pants are one of the LAPG pants I wear off duty. The belt loops accommodate 1.5-inch or 1.75-inch belts on an elastic waistband, and the pants are available in sizes 28 to 50 (inseam 30 to 36 or unhemmed).
Made of fade-resistant 7.5 oz. fabric, they have a total of eight pockets, and the large cargo pockets each have a D-ring to secure keys or other important items. The dual front slit pockets are where I usually carry small items like a small OC can or a few keys. The large slanted cargo pockets are great for retrieving and stowing your phone while seated.
These pants feature a gusseted crotch for increased comfort. The double knees and double seat are also great features to have in my experience. Anyone who has spent a decent amount of time in training knows those are the first places to wear and tear.
Urban Ops Tactical Pants: LAPG's Urban Ops Tactical Pants are also part of my off-duty wardrobe. Like the Basic Operator, Urban Ops pants have a fabric weight of 7.5 oz. and pass-throughs on the cargo pockets for larger items like duty-size flashlights or small batons.
The Urban Ops pants also feature slanted cargo pockets, a gusseted crotch and 22 individual bar-tack stitch points to increase strength in critical areas. They are available in sizes 28 to 50 (inseam 30 to 36 or unhemmed). The elastic waistband provides an inch of stretch and belt loops that accommodate up to 2-inch belts. LAPG recommends going up a size or two if you will be using an inside-the-waistband holster while wearing them.
The slip back pockets are nice when you're about town and in little danger of losing one's wallet. Personally, I prefer the Basic Operator pants with their covered, button-securable pockets for hiking and other times when this might be a concern.
Atlas Tactical Pant with Stretch Tech System: The Atlas Tactical Pants are the type of pants I generally wear to the range or when teaching or taking classes. Many agencies are using these for uniform trousers, especially for range or training officers. They look sharp and last for a good while.
The Atlas Tactical pants are made of a heavier 7.65 oz. Teflon-coated fabric, which includes the Stretch Tech System of stretch panels in key areas – the crotch and seat in particular – to provide free and unrestricted movement. They are available in sizes 28 to 42 (inseam 30 to 36) and in shorts.
These pants have a total of 10 pockets. The cargo pockets are zippered and have external slip pockets for additional storage. The pants also have internal knee pad pockets made for neoprene knee pads, as well as reinforced areas at the knees, knife clip and heels/hem.
My favorite part of these trousers is the Stretch Tech System, which allows the mobility for bending, kneeling and going prone as needed for shooting drills.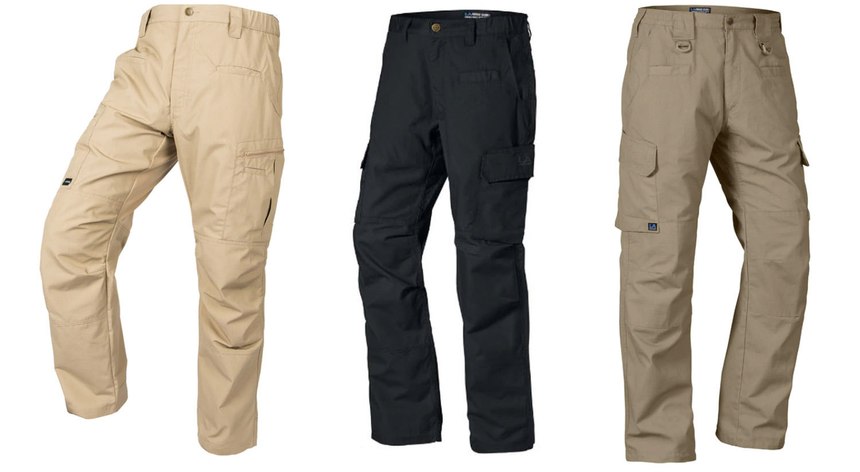 Providing fit, form and function 
LAPG also offers two styles of women's tactical pants with similar features.
"Making pants is tremendously complicated, and women's fit blocks are much more complicated just because women have such a greater variety in shaping and sizing, so we actually came out with two pants," said Frank. "We've been doing this for 10 years now, so we're pretty good at making pants that fit most people very well."
Based on what they've learned on the force and over nearly 20 years in business, LAPG has a good understanding of what cops need, how to design pants that fit properly – and which sizes are most popular to keep in stock. "We understand the bell curve of sizes very well and try to keep those common sizes in stock pretty much all the time," said Frank.
I have always and will always recommend LA Police Gear for cop shopping, especially their house-label products. I looked in my closet when I started writing this piece and I can't even remember what I wore before LAPG pants. I do know whatever it was probably cost a lot more and did not last as long.

Request information from LA Police Gear
Thank You!