Be professional: What's new in uniforms?
A new collection of durable, utilitarian pants and polo shirts offers increased comfort and affordability for on-the-job garments
---
Sponsored by Propper
By Sean Curtis for Police1 BrandFocus
It's no surprise that cops want garments that are high performance, low maintenance, durable and that look professional – and at a reasonable price.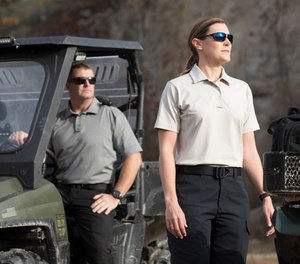 Propper has been providing durable garments and gear designed for military and first responders for more than 50 years. As the company continues to develop new products to better meet the needs of their customers, their product specialists talk with end users to find out exactly what those needs are.
Propper recently launched the EdgeTec collection of pants and polo shirts to add to its selection of uniform pieces designed specifically for first responders that provide utility, comfort and a polished look at moderate cost.
EdgeTec Polo
Made of a combination of lightweight materials (6.3 oz. 92% polyester and 8% spandex jersey), the EdgeTec Polo is breathable and dries quickly. Soft to the touch, the fabric glides over the body and stretches as needed.
In addition, the EdgeTec material has built-in odor and moisture protection, making it antimicrobial, so the shirt is working hard to keep you cool and odor free. This is particularly important when wearing an under or over vest, or simply working in hot climes.
The EdgeTec Polo is snag- and pill-resistant, so it will stay sharp-looking for a long time, and to provide extra comfort, the flatlock seams reduce the potential for chafing where large pieces of material are combined.
The shirt also includes thoughtful details wearers will find useful in the field. The collars have stays, and there are mic clips at the shoulder seams. There is also a loop at the bottom of the placket (below the buttons) which can be used for a mic clip or for your sunglasses. In the left shoulder there are two pen pockets for keeping writing instruments handy.
The EdgeTec Polo comes in five neutral colors, including LAPD Navy, and is available in a range of sizes from XS to 5XL.
EdgeTec Pants
Propper likewise tapped into their over 50 years of design experience and built a workhorse pant that would provide equal comfort and utility.
The EdgeTec Pants feature a 4.7 oz 100% polyester ripstop. This makes the pants incredibly light yet tough. Propper added a durable water repellent (DWR) treatment to resist dirt and moisture because they know first responders may not be able to stay out of the muck. Most dirt can simply be brushed off the pants to keep the wearer looking sharp.
While the EdgeTec pants are rough and tumble, they still have utilitarian features. The front hand pockets have a reinforced area for clipped knives or tools so they don't wear out prematurely. The rear features back welt pockets for easy access. They also have reinforced knees.
Other features support both fit and movement. A slider waistband provides needed stretch whether changing to awkward positions or just having a really big lunch. However, the inside of the waistband is lined with a shirt gripper so your polo can stay neat and tucked. The waist is designed for a classic fit, just a bit below a regular waist, to provide comfort through the hip, thigh and leg.
EdgeTec Pants come in three variations, Slick, Tactical and EMS, and are available in shorts also:
Slick Pant: traditional four-pocket pants with a fifth pocket on the right thigh at arm's length.
Tactical Pant: traditional four-pocket pants with two large, canted, cargo pockets on the thighs.
EMS Pant: nine pockets, specifically designed to house shears and other gear required by EMS.
EdgeTec Shorts: five-pocket shorts with the standard EdgeTec features.
These pants come in four colors: black, khaki, LAPD Navy and ranger (olive green). They are available in waist sizes from 28 to 56 and inseams from 30 to 36. Additionally, you can receive the pants unhemmed if you wish.
Propper understands first responders need quality clothing, and that they don't want to spend an arm and a leg to get it. They also know we need to stay cool, comfortable and looking (and smelling) professional at all times. With their utility, durability and comfort, the EdgeTec collection delivers the features needed by police and other emergency professionals.
About the author
Sean Curtis is a law enforcement professional with nearly two decades of experience, serving with SWAT, diving and swift water rescue teams in Colorado. He has also served in wildland fire, search and rescue, EMS and emergency management.