Quiet Warrior: How a school cop stopped a would-be mass shooter
School Resource Officer Mark Dallas put a stop to a gunman's attack on his school before anyone was hurt, but he doesn't consider himself a hero
---
Sponsored by 5.11 Tactical
When school resource officer Mark Dallas returned to Dixon High School on the first day of the new academic year, it was just a few months after a shooting during graduation practice had put him and the Illinois high school in the national spotlight.
Things had changed. He locked more doors during school hours than he used to. He modified his patrol to be more unpredictable. He carried more equipment than he did before.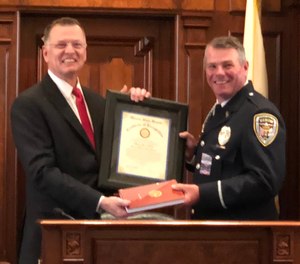 Dallas had always felt a deep sense of responsibility for the more than 700 kids who attended Dixon High, but that too, was different now – there was a gravity to it that hadn't been there previously. Even the school itself had changed, in the form of a multi-million dollar renovation. But the students hadn't changed. They were how you'd normally expect them to be on the first day of class: excited.
"I don't think the incident has been a distraction for them," Dallas said. "The first week, we had extra counselors and no one utilized them. So the counselors think we're doing well."
Although Dallas attributes the resilience on display during that critical first day back to the thrill of seeing the extensive improvements to the school's facilities, there was something else that undoubtedly factored in.
When the students and faculty returned to Dixon High in August, there were no memorials, no candlelight vigils, no moments of silence. Because of Dallas' rapid response to the sound of gunfire on May 16, 2018, those students and faculty were saved from tragedy.
A LONG HISTORY OF SERVICE
With over 20 years in law enforcement, Dallas has a long history of being both warrior and guardian. He's served in a wide range of law enforcement roles, including tactical rifle marksman, range instructor and juvenile officer. He's spent the majority of his career as a K-9 handler in Dixon, about 100 miles west of Chicago, where he grew up. He loved working with police dogs, but the nature of the job meant that he didn't get to spend a lot of time at home with his son and daughter.
"I was away quite a bit," Dallas said. "I missed a lot of things, a lot of opportunities to spend with the kids."
While he was working with his second dog with the Dixon PD, he was given the opportunity to become an SRO at Dixon High School – the same school he himself had graduated from in 1987. In addition to giving him more time with his kids – both at home and at the school, where Dallas' son was starting his freshman year – it was also the opportunity to work closely with other children. In fact, it wasn't the first time he'd considered a career in a school environment: He originally wanted to be a history teacher.
"I was getting older, and the dog was getting older, so I was glad I got offered the SRO position," Dallas said. "I actually got to spend a lot more time with my own kids."
FROM THE STREET TO THE CLASSROOM
Going in, he wasn't sure what to expect in the transition from street to classroom. Far from the "retired on duty" job that some cops unfairly perceive it to be, serving as an SRO is complex and requires playing numerous different roles with children and faculty. Dallas underestimated how challenging it would be.
"I was like, 'Wow, this is a harder job than I ever thought,'" he said. "It's more of the counseling side as opposed to the criminal law side."
In addition to his responsibilities as a guardian to the school, Dallas puts on many hats during an average week – counselor, mentor, coach, teacher. In one day, he may handle a parent complaint, manage a criminal issue with a student, help teach a driver's ed or health class, run lockers with a K-9 and coach one of the sports teams.
"I like building relationships with my kids, the students. They get mad when I call them 'my kids' because they think they're young adults, but they still act like kids," Dallas said, laughing. "I like building that relationship so they know that not every cop is out to get them. In our town that's really helped. We've had an SRO in our school system since 2000, and it didn't take us long to learn that the program was working for the students."
When he's not at the school, he's helping his colleagues at Dixon PD on the street.
"I'll help the patrol shift – they can sometimes get busy right after school lets out," Dallas said. "But they do not want me to leave the school unless I have to."
'DAD WAS PISSED'
When Dallas heard the popping sounds near the gymnasium on that fateful day in May, he knew exactly what they were.
"I was praying it was a senior prank, some fireworks," he said, "but I've been around firearms my whole life. I knew."
It was a typical day for three-quarters of the students. But the seniors, who'd already finished their classes five days prior, were back on campus in the gym to practice their graduation ceremony. It was the class that Dallas felt the most connected to – he had started the SRO job at the same time they were starting as freshmen, and he'd watched them grow up before his eyes. His son was part of the graduating class. So were three of his colleagues' children. His younger daughter and his wife had just left the school moments prior. This was personal.
Dallas immediately located the gunman, who was headed toward the gym the students were practicing in. As Dallas pursued him, the gunman turned around and fired multiple shots at him.
"Not one time did I ever think of taking cover or disengaging," Dallas said. "I was in my plain clothes uniform. I wasn't wearing a vest or anything. I still pursued him. I didn't care. I was angry that it was happening in my school. I'm dad to 775 students, but the 182 students that were in that gymnasium, I'm really their dad. And dad was pissed."
It was over quickly. Dallas returned fire and then took the wounded suspect into custody. No one else was hurt. He credits his training for his ability to prevail that day.
"It was training that popped in," Dallas said. "I'm amazed by how fast the brain works with the things you're taught. I was running case law, everything through my head when I was chasing him. And then when he turned and shot, my brain switched from case law to marksmanship training."
Many tears were shed in the hours and days following the shooting. Graduation day was particularly emotional.
"I went in there and – I got all my tears out before I went into the public arena – and gave each one of them a hug or a high five," Dallas said. "And we all shared some tears, and then we enjoyed the rest of the day."
Despite how prepared Dixon High School was for an active shooter, Dallas never thought it could happen there. It's a lesson he wants all LEOs to take to heart.
"As much we've trained with our kids, I honest to God never ever thought it would happen. Not one iota," Dallas said. "If you think it could never happen at your school, you're wrong."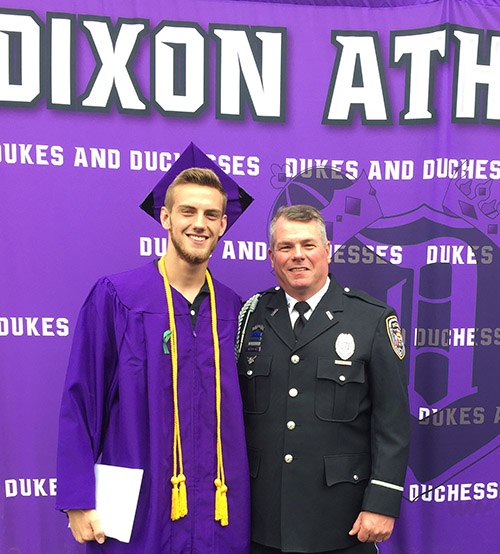 'JUST DOING MY JOB'
In the months since the incident, Dallas has received an avalanche of praise and awards. Over the summer, as he took on various law enforcement tasks, he became somewhat of a celebrity, with many residents approaching him for a hug or to shake his hand.
"My guys – law enforcement – obviously we all like to joke around," Dallas said. "The guys I work with would give me a hard time and want to take selfies with me and ask for my autograph, stuff like that, because the general public would do some of that in front of them. So it was humbling, I guess, and nice. But it also gave more ammo to the guys I work with!"
Despite the attention, he doesn't consider himself a hero – he's just thankful he was there to protect the kids of Dixon High.
"I'm a cop, and I was doing my job that day," Dallas said. "I've been asked if I consider myself a hero quite a bit, and I always respond with a line from Dick Winters from [TV series] 'Band of Brothers.' When his grandson asked him if he was a hero in the war, he said, 'No, I served with a company of them.' And I serve with a bunch of heroes – every day these cops do their jobs, and they're all heroes."