Review: Elbeco uniforms look sharp while offering comfort, utility and durability
Tough, functional and comfortable, the Reflex garments provide a professional look plus plenty of pockets, stretch and range of motion
---
Sponsored by Elbeco Inc.
By Sean Curtis for Police1 BrandFocus
Law enforcement uniforms have to work as hard as the officers who wear them, sometimes harder. They serve multiple purposes in that they must look professional for command presence, they should provide utility to the wearer, and it would be nice if they offered some protection, too.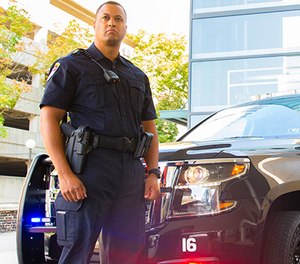 For 15 years I wore uniforms that only really hung their hat on looking sharp. Thankfully, now officers have the option to choose Elbeco – their uniforms do all the above.
The Challenge
Yes, the full-polyester nightmares I used to wear somehow managed to be hot in the summer, cold in the winter and uncomfortable to boot. Sitting or bending down just the right way occasionally caused me some great discomfort, and I never knew when the whole crotch might blow out.
If a fight went to the ground (almost always) my knees and elbows were often wrecked, and I would probably be missing a button or two. My uniforms featured only the standard pockets and had limited utility – but they looked nice.
Officers need so much more than that, and Elbeco has delivered. I recently tested their and marveled at all the features I missed out on. Thankfully, you don't have to.
SHIRTS
The Reflex shirts, available in long- and short-sleeve versions for both men and women, are fashioned from 65 percent polyester and 35 percent cotton ripstop with 18 percent permanent fiber stretch. What does this mean? It means they flex. Not only does this make them more comfortable, but they are more durable as a result. They breathe better but are also imbued with Nano Fluid Repellency, meaning that energy drink you spill will run right off without soaking in and staining. Finally, the shirts offer UV 50 protection.
On the front, there are dual-access chest pockets. This means you have the normal top-load scalloped pocket flap, but there is also side access too, making a total of four pockets. The armpits are a surprising place for innovation, but flex underarm mesh vents give you increased range of motion while allowing more ventilation.
Wear an earpiece for your radio? There are holes on either side of the shirt in the seams, just a few inches above the waist. This allows you to route your wire underneath your shirt so it stays out of the way.
The front of the shirt closes with a zipper. There is one button below and one button above, but the majority of the front placket is false. Between the second and third button there is a cloth loop sewed for your convenience. Here you can affix your radio mic, a body camera or even your sunglasses.
PANTS
Like the shirts, Elbeco Reflex pants have the 65/35 poly/cotton split, but with 12 percent permanent stretch fabric. This makes an amazing difference when bending down, sitting and moving in general. The waist alone gives you an extra 3 inches of stretch with a covert waistband. Additionally, the crotch is triple stitched, meaning you're covered. Finally, permanent creases create a professional appearance with low maintenance. From this base, there are two version of the pant.
The style has zippered, low-profile pockets on the thighs more akin to a Class A pant. The zippers are scarcely noticeable but open a spacious pocket with another pocket inside. This interior pocket is perfect for an AR magazine. I would hazard a guess that they were created just for this purpose. The hidden cargo style has standard slash-front pockets as well as two rear pockets. The left rear has a button loop for securing contents. Neither allow items to ride too low for sitting comfort.
The style maximizes utility. The cargo pockets on the thighs have two external pockets: One is roughly pen-light sized, the other could hold your favorite tourniquet. A magnetic flap covers the main pocket, ensuring that this pocket will stay closed unless needed. Inside, you will find the same internal magazine pocket as in the hidden cargo pants. The whole package is still quite sleek and does not present a vastly different profile than the hidden style.
The front pockets have a dedicated knife rest cut to them, offering the ability to reach into the pockets without catching your wrist on your pocket knife. In addition, the left front pocket has a hidden zipper pocket underneath for added storage. The rear pockets are configured similarly to the hidden cargo style but with an addition of two extra pockets below. Formally called "sap pockets" in a bygone era, these pockets may hold extra tools or serve as a large flashlight holder.
Testing
I wore these uniforms and performed the general tasks one might experience in a common shift. The comfort afforded by the stretch material cannot be overstated.
On the other hand, the uniforms are tough. They hold up well and resist the common snags that would pull a loop of fabric out of previous uniforms I've worn. I suspect I could go to the ground with someone and not have to dip into uniform allowance over the issue.
The shirts, worn over a vest, were comfortable and had great utility, allowing me to carry small pleading manuals, Miranda advisement, business cards and pens without being too bulky. They allowed for a wide range of motion I had not previously enjoyed.
I never experienced any painful pinching from the pants while shifting about or bending or sitting. I also greatly preferred the functionality of the external cargo style pants, but for leaders who fear all cops are trying to look like SWAT officers, the hidden cargo pocket style pants are a great compromise. The rubber strands internal to the waistband kept my shirt from untucking, and the creases were perfect.
The Elbeco Reflex uniforms are an impressive advancement. These garments are more comfortable, more durable, have vastly more utility and still look very professional. You get the appearance of a Class A uniform with the function of a Class B.
Law enforcement officers are called on for a wider range of duties these days, and they face an ever-widening threat paradigm. Having uniforms designed and built to withstand the rigors of modern duty is the least we can ask. These shirts and pants are tough, extremely functional and comfortable enough to carry you through a 12-hour shift.
Agency-approved wear tests are available, depending on agency size.
About the Author
Sean Curtis is a law enforcement professional with nearly two decades of experience, serving with SWAT, diving and swift water rescue teams in Colorado. He has also served in wildland fire, search and rescue, EMS and emergency management.

Request information from Elbeco Incorporated
Thank You!