SHOT Show 2019: 5.11 aims for low visibility, high comfort
5.11 introduced two new lines at SHOT Show this year based on customer feedback, both of which are designed not to be seen
---
When you are trying to be discreet, nothing says "shoot me first" like a tactical backpack. For this reason, 5.11 Product Manager Sharon Park and Product Designer Scott Lambert worked with covert teams on designs for 5.11's new LV backpack series to ensure the line would be low-vis (LV, get it?), yet highly functional.
Some bags have one or more stealth pockets with hidden zippers – and orange tags are attached so the owner can find most of them. I found one pocket hidden under a seam. Just remember to remove the tags so that no one else knows where they are. And even the small 5.11 logo tags are tuckable for total anonymity.
James Bond might even be seen with one of these by his side at the baccarat table – with the tags untucked for bragging rights.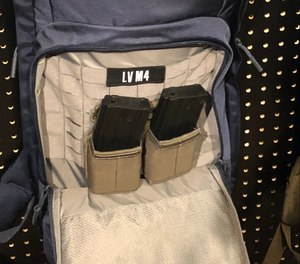 There are five bags initially being released in black, tarmac (olive) and night watch (navy): M4, M4 Shorty, LV6, LV10 and LV18. The two M4 bags are designed to hold rifles, the LV6 is a belt pack, the LV10 is a sling pack and the LV18 is a backpack.
The LV M4 ($134.99) is convertible between a backpack or a crossbody bag and will hold up to a 32" rifle. The M4 shorty ($124.99) carries up to a 29" rifle. Both bags make it easy to stay organized with purpose-built pockets. The front compartment features a laser-cut MOLLE panel and internal mesh pocket. There's another fleece-lined pocket to keep your eye protection secure, or you can flip the pocket inside out to show your ID patch when you deploy.
The LV10 sling pack ($119.99) makes it easy to have your equipment within reach without being in your way. While looking totally civilian outside, the LV10 is dangerously loaded with organization, with a concealment compartment, a tablet pocket, admin panel and zippered pockets.
My favorite bag in the series is the LV18 backpack at $149.99. While the outside looks like something your kid might wear to school, this is one mean 30-liter bag on the inside. One large compartment holds a 15" laptop in a padded sleeve and second has an eyewear pouch and two zippered pockets.
If you need to carry off-body or just want some additional ammo, a compartment with hidden zippers on the right and left sides contains a 4" long hook and loop (Velcro compatible) "faux belt" and six magazine pockets. You mount a paddle holster by slipping it over the faux belt. If your holster has fixed belt loops, the faux belt separates so that you can thread it through them.
The laptop compartment is behind the handle, so it can be opened toward you while you are seated so only you can see what is inside.
The front compartment is where the action is, with a laser-cut MOLLE panel, hook and loop fabric, pockets for two AR-15 mags and loops for two pair of flex cuffs keep things organized. Like the 5.11 AMP series that Police1 columnist Warren Wilson reviewed, the new 5.11 Hexgrid insert can be used in the LV18 to let you mount MOLLE-compatible gear at 12 different angles, rather than only four as with traditional MOLLE loops. If you really want to load it up, an optional sternum strap is available.
Finally, the LV6 belt/chest pouch ($42.99) is convertible and can either attach to the bottom of the LV18 or can be used standalone for quick runs to the store. With four ways to carry, the LV6 is the perfect platform for easy firearm deployment if you need to carry off body. It also could be used to hold bleed kits.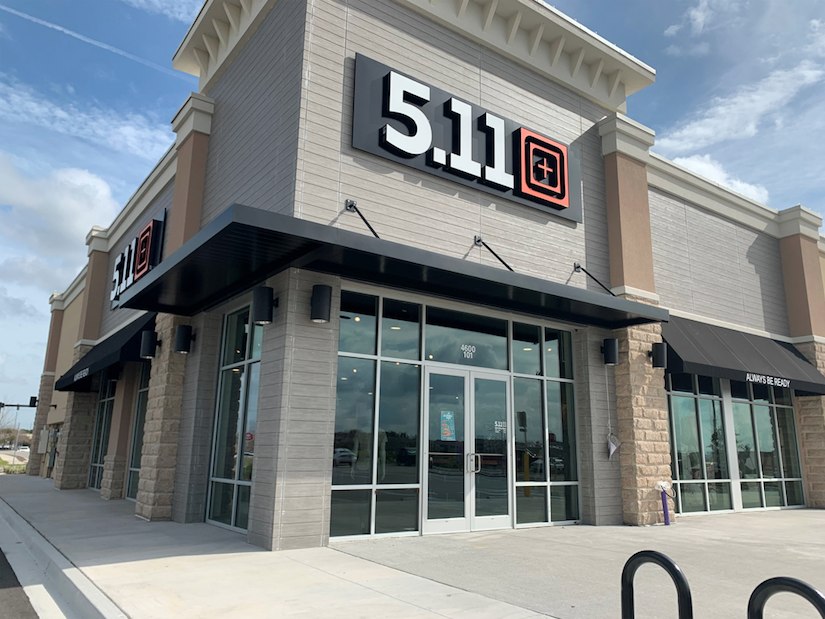 Base layer
At last year's SHOT Show, 5.11 announced a partnership with Woolmark to create a new line of Class A uniforms made from Australian Merino wool to provide next-to-skin softness and natural stretch properties while retaining shape and color.
This year, 5.11 announced base layer additions to its Range Ready line made from 81% Merino wool with just a bit of Nylon and Elastane. The newcomers include short ($69.99) and long sleeve ($79.99) tops, a brief ($49.99) and tights ($74.99).
Since the weather was predicted to be 43 degrees and windy for the SHOT Show Industry Day at the Range, I wore the short-sleeve top under my button shirt and down jacket. While I was freezing last year when it was 10 degrees warmer, I was pleasantly comfortable this year.
While the top is extremely light and thin with a bit of stretch, the fit was like a T-shirt and not a compression garment (a slightly chubby writer loves the designer for this). While I hate the itchy feel of wool sweaters, the ultra-fine weave was no-itch and except for keeping me warm, it practically disappeared.
Unlike cotton or synthetics, wool is naturally temperature regulating and I stayed comfortable even as the sun rose in the sky. I was more surprised when I took it off and it didn't reek, even under my arms. Merino wool is known to absorb and neutralize odor-causing molecules.
Boots
While boots aren't terribly exciting to me, I must wear them when I am on duty, so I am always on the lookout for something more comfortable for my duck-shaped feet. Version 2.0 of the 5.11 ATAC boot is lighter than V1.0 and features side zipper or no side-zipper versions, low-friction lining, removable dual-foam insert for all-day comfort, and an air-mesh tongue for breathability on the non-waterproof models.
Just like armor manufacturers started building women's armor differently, 5.11 uses a different "last" (foot bed) design for women in their boots. All ATAC boots have a carbon-fiber-protected toe box and my favorite feature is a heel cup with foam around the ankle to lock you into your boot even when running for less rubbing, which can cause blisters. Models start at $99.
For more SHOT Show coverage, visit https://www.police1.com/shot-show/ and for more information on 5.11 products, visit the Police1 category page here.