PRESS RELEASE
Fox Tactical presents the innovative Universal Rifle Pack at IACP 2017
---
New to Fox Tactical's bags & packs lineup this year is the innovative Universal Rifle Pack. Drawing inspiration from their Modular Field Pack, Fox has designed a rugged pack that can withstand the toughest of conditions while still being extremely versatile. Giving the user those all-important options as to how the pack will function is what Fox achieves with the new Universal Rifle Pack.
Fox Tactical's dedication and pride into innovating and designing quality bags & packs is met by few and it shows with this pack. While having a separate compartment for a weapon is the main selling point, the rest of the backpack doesn't fall short. A holding capacity of 50 liters, 2 large side pockets and a huge main compartment with 4 cinch straps makes organizing and accessing your gear all too easy. The outside and inside is covered with numerous modular attachment points and Velcro to customize your specific loadout. And as always, it has dual hydration ports for your bladder and is complete with a rain-fly.
But as the name may suggest, the main function of the Universal Rifle Pack is for transporting a rifle or a shotgun in a backpack form. Efficiency and ease of use being the name of the game here. The pack can transform from a large transport pack into a large weapon transport system in just 3 quick and easy steps. Unzip the drop-down bottom to accommodate longer weapons. Secure the weapon in place by tightening the sleeve via a pull cord. Lastly, place and secure the hood over the top of the weapon to keep it dry and not visible. It's that Simple.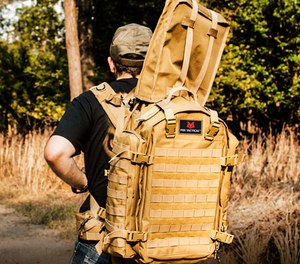 The Universal Pack is now available in Olive Drab, Black and Coyote. Check it out @ booth #3053.