Maintaining a low profile: Undercover and everyday carry products at SHOT Show 2020
There is a lot of great gear on the market aimed at improving officer safety using the latest technologies
---
Cops are being targeted on and off duty. One police chief was recently stabbed in the face with an ice pick when he opened the door to his house. Did you ever think you would need to carry at home? In his article, Police1 columnist Marty Katz provides five off-duty safety rules every cop should follow. And perhaps it's time for your family to read them as well.
Since Marty recommends you carry all the time (and, as I said, even at home), this is a great time to review some everyday carry and undercover products that were on display at SHOT Show 2020. And since first responders are working harder than any other time in recent history, this could be a great time to pick up some new tools as a "reward."
Any firearms enthusiast knows that a hot trend is high-capacity pistols for concealed carry. And as you can imagine, manufacturers are working overtime to develop accessories for them. I covered a couple of concealed carry holsters here and here, but you also need to carry backup ammo – speed loaders for revolvers and magazines for pistols. And if you are working undercover you need ballistic protection that doesn't look like ballistic protection.
Spare magazine carry
There are two main places to carry spare mags on your person: on your belt or in a pocket – and many companies make low-profile leather or Kydex belt pouches that can hold one or two spares. If you want to carry in your pocket, you need to ensure that the mag doesn't get clogged with lint and that you can get to it quickly.
Neomag introduced a magnetic magazine holder that clips inside your pocket and securely holds most magazines. Three different versions are available to fit different cartridge lengths from .380 to .45 and each is available with a regular clip or extended pocket clip. The clip you choose depends on how tall your magazine base plate is. Neomag products are available directly or from dealers including Amazon.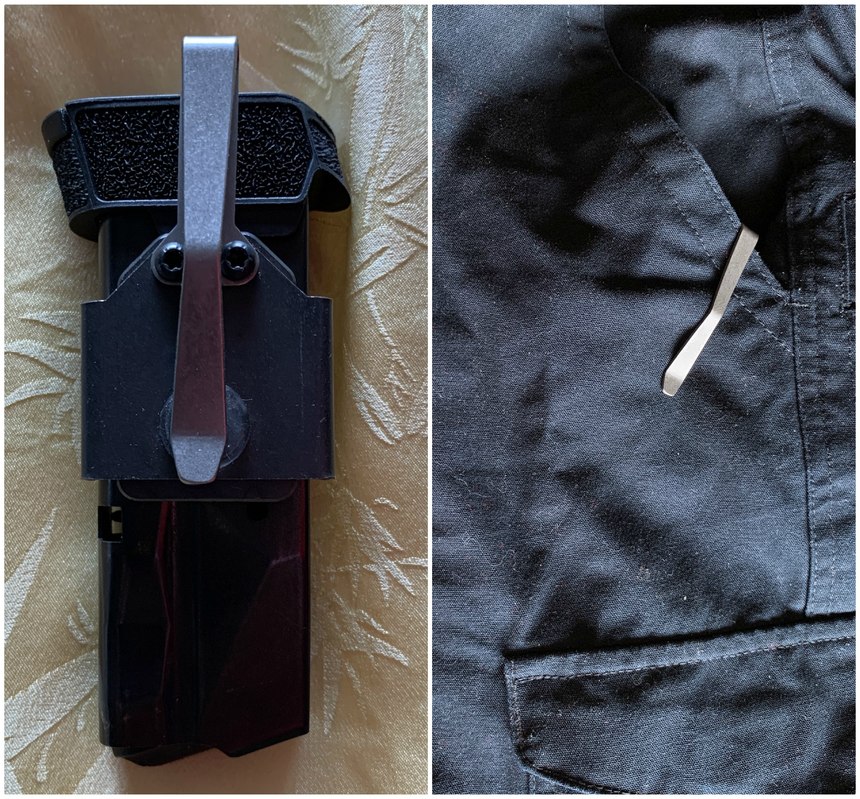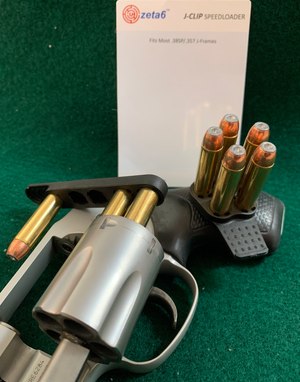 I also played with the J-Clip and J-Strip from zeta6. Traditional speed loaders are hard plastic and metal and require a lot of practice to clear the grips, accurately place the cartridges into the cylinder and twist the knob to release them.
The zeta6 loaders are flexible rubber with little nibs to hold the cartridges in place. Even with shaking hands, it is easy to position the J-Clip into the cylinder and twist it off to release the cartridges. If you want a flatter option, the speed strip is for you. With three motions, you load 2, 2 and 1 cartridges into your J-frame.
Speed strips from any manufacturer can get tangled in your keys, change and other junk at the bottom of your pocket. Neomag solves this problem with the RASC (Revolver Ammunition Strip Concealment). Similar to the magazine clip discussed earlier, this one is designed to hold a standard rubber speed strip, keeping your revolver ammunition where you can get to it quickly.
Concealable Armor
Miami-based Miguel Cabellero (MC) Armor has been in business for 27 years and specializes in ballistic apparel that would not be out of line on the finest high couture runways (figure 4). The company's website states that President Obama, Steven Seagal, several heads of state and many front-line journalists wear their products. Rifle plates also are available, and every product is made to your measurements.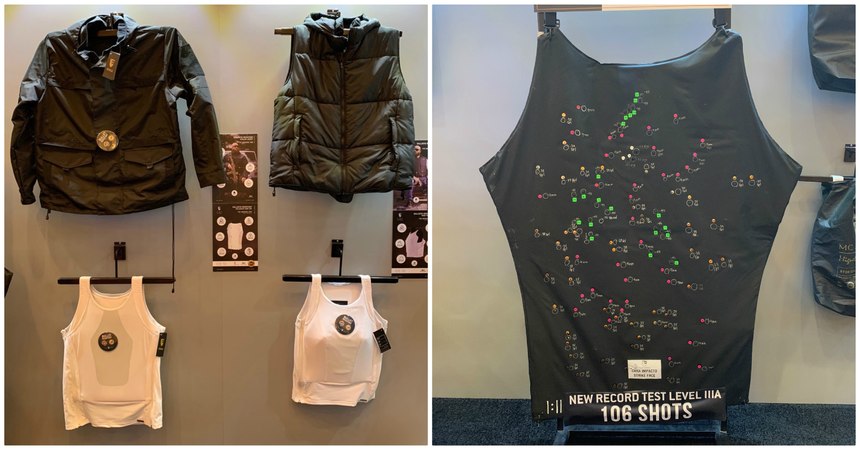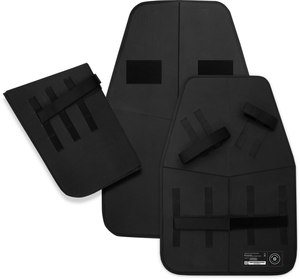 If you need even more protection, you can look to the AEGIX Swift Shield. According to an FBI study, 68% of officers in LODDs are wearing armor and 83% of those deaths are while getting out of a vehicle. When folded, the 8-pound AEGIX is the size of a notebook and can be stored in a door pocket, on the dash, motorcycle saddlebag, or in a backpack. With a flip of the wrist, it expands info six square feet of lightweight, NIJ Level IIIA ballistic protection.
everyday carry Knife
Because I am a non-sworn support staff, I cannot legally carry an automatic knife even when in uniform. My everyday carry knife for the past 6+ years has been a Benchmade Barrage with its one-hand deploy AXIS Assist mechanism. Even through two generations of grips, my main complaint is that it is slippery even with dry hands. Every year at SHOT Show, I stop by the Benchmade booth to have my knife sharpened and ask what is new in the assisted-opening category that has some grip.
This year, Benchmade publicist Matt Glass sent me the company's 407SBK Vallation. Made with a black CPM-S30V steel blade and a matching 6061-T6 Aluminum grip, it has plenty of heft for striking with the carbide glass breaker – a bonus for an everyday carry knife. I've carried it for about six months and have used it with wet hands and dusty hands and it is one of the most grippy knives I have ever owned. As you can see by the photo, it has finger grooves, helping to keep it in your hand during the most demanding use.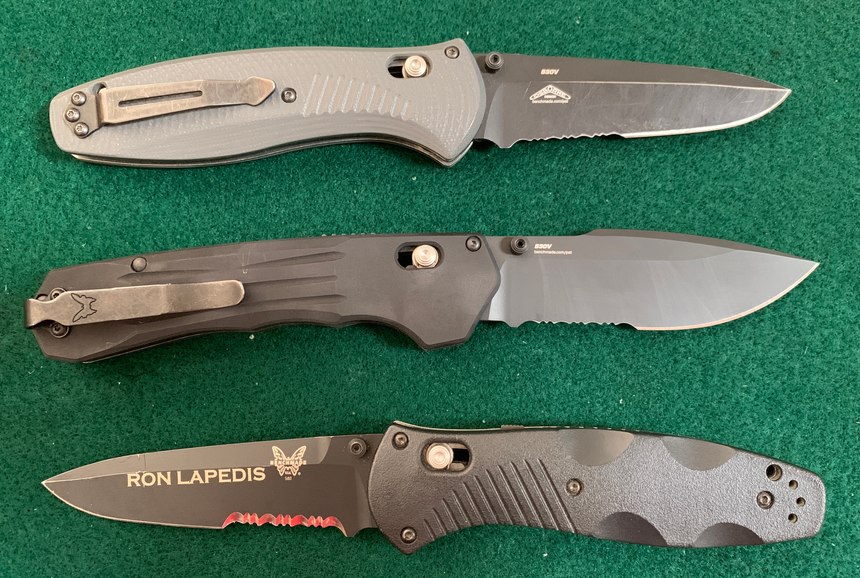 There is a lot of great gear on the market using the latest technologies. For more coverage of EDC gear to make your work easier and safer, visit the PoliceOne everyday carry page, and click here for more coverage of new products shown at the SHOT Show 2020.

Request product info from top Ballistic Shields companies
Thank You!