PRESS RELEASE
BlueStone unveils load bearing vest that holds rifle plates and keeps a uniform look
---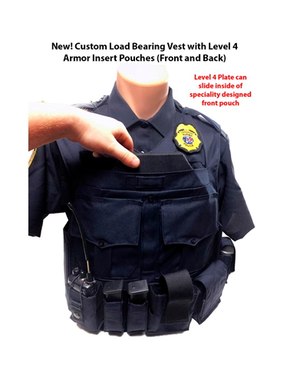 WISCONSIN DELLS, Wis. — BlueStone Safety Products, a U.S. manufacturer of custom load bearing vests for LE, has revealed their new vest design that holds level 4 rifle plates while still giving the officers a uniform look. Traditional plate carrier vests typically clash with the department's uniforms, and they cover items the officers may need to use.  With BlueStone's new style, a separate plate carrier vest is no longer needed, as the custom load bearing vests have specially designed pockets to hold level 4 rifle plates in the front and back. Each custom load bearing vest is made to the Chief's or Sheriff's exact specifications, giving the officers a uniform look.  
These new custom load bearing vests efficiently hold the officer's body armor vest as well as their rifle plates, giving them a uniform look with double the protection. When there is an active shooter situation, these new vest carriers make it easy for officers to slide their rifle armor plates into the vest, so they have extra rifle round protection and can still access all of their items. Being able to easily slide the armor plates into the vest helps keep them safe while on duty, and allows them to get to the scene faster to protect those in danger.
After completing a research study, the Mayo Health Clinic and University of Wisconsin-Eau Claire found that  BlueStone Safety's custom load bearing vests help improve officer's posture by reducing slouching/ rounded shoulders, and they help alleviate hip, lower back, and sciatic pain. These high quality LBVs are backed by a 2 year warranty for stitching and craftsmanship, and are built to last much longer than the competition. BlueStone load bearing vests are custom made to each officer's specifications and needs, and allows them to choose the pouch locations for their handcuffs, magazines, flashlights, etc.  
For more information or to order the BlueStone custom load bearing vest with rifle plate pockets, please visit https://bluestonesafety.com/products/custom-vest-carriers/bluestone-load-bearing-vest-custom-external-vest-carrier-with-rifle-pockets.
About BlueStone Safety Products
BlueStone Safety Products is a state-of-the-art defense company that manufactures custom load bearing vests / outer carriers for LE.  Mayo Health Clinic and the University of Wisconsin-Eau Claire completed a research study with the Eau Claire Police Department, and concluded that wearing BlueStone load bearing vests effectively reduced officers' lower back, sciatic, and hip pain; Eau Claire then chose BlueStone to be their direct manufacturer.  You can find this case study on our website.
BlueStone takes great pride working with some of the finest Sheriffs and Chiefs across our nation. No matter your department size, we'll assist you.  We specialize in keeping officers in good health, good posture, and pain free while on the job.
Our vests give officers a uniform look, made to the Chief's or Sheriff's exact specifications.  If you can dream it we can make it;  all of our vests are proudly made in the USA (not overseas), and made custom to each officer's measurements. BlueStone vests are a long-term investment to protect your officers from poor physical health, keeping our officers healthy and able to support their communities.
We also offer our brand of multiple armor threat levels.

Request more info from BlueStone Safety Products
Thank You!