New Product – QuikDon by Baker Ballistics, LLC
---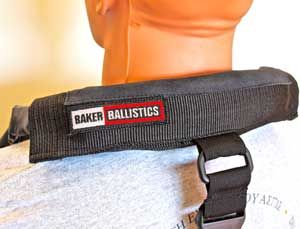 LANCASTER, Pa. - Assailants armed with long-guns that readily pierce soft body armor, such as AK-47's, create an extremely dangerous environment for first responding patrol officers.  In an effort to increase officer survival, Baker Ballistics has recently developed a simple accessory for use on the popular lightweight MRAPS™ rifle protective handheld ballistic shield – the QuikDon™.
QuikDon™ (patent pending) is a unique load-bearing pad that can be snapped onto the standard MRAPS™ Quick/Release Spreader™ assembly, providing an instant method of donning the lightweight military/tactical composite ballistic shield.  Muscle groups within the wearer's upper rear torso and neck can now effectively, and comfortably, carry the MRAPS™ shield for long periods of operation.
The MRAPS™ lightweight composite shield provides users NIJ Level III rifle threat protection, safely defeating multiple impacts from most common assault weapons - including the great majority of popular hunting rifle weaponry, from close range.
Patrol officers have now entered the realm of high level ballistic protection, combined with the MRAPS™ ability to conduct advanced patrol rifle and/or handgun CQB tactics – gaining safety and mobility benefits previously limited to military and law enforcement tactical shield operators.
For more information, contact Baker Ballistics, LLC at www.bakerballistics.com