Body armor roundup: What's new in ballistic protection products?
Products which have come to market in the last few years are better, more protective, and lighter
---
This month, Police1 looks at new developments in ballistic protection products. The trend continues — especially with ballistic shields and ceramic and composite plates — that products which have come to market in the last few years are better, more protective, and lighter. 
As a patrol officer, I thought I'd share a few things that may surprise you about vests. Foremost, I thought that the dinosaurs who did not wear vests for duty were extinct a few years ago. That's not entirely true.
As far as I know, there are no nationwide statistics about vests, except ones the FBI collects in LEOKA reports. The estimate is the fatality rate of non-vest-wearing officers is 14 times higher than vest wearers.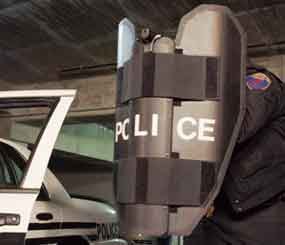 The biggest reason for not wearing vests is comfort related, which is also where the most improvements in vests occur. 
Another major reason for not wearing vests: Some agencies can't afford to provide vests for their officers. I did not know this until I had a coworker at my civilian job tell me that her husband — a full-time officer in a small community — had to purchase his own vest. I immediately donated my old vest. 
Officers and agencies, if this is problem true for your department, spread the word that there are vest donation programs. My favorite — which has been endorsed by ODMP — is the Armor of God Project.
You can read more about that in this article by Police1 Editor in Chief Doug Wyllie. 
Better Shields and Plates
So, with that said, what's new in ballistic protection?
First, the Baker Batshield from Baker Ballistics is an excellent product that can be assigned to every vehicle in the fleet. Baker Ballistics has experienced a dramatic increase in orders, mostly for their PatrolBat, one of the most cost-effective portable ballistic shields available. I like it because it agrees with most training philosophies of ballistic shield deployment, and handgun/rifle transitions are instinctive. In fact, one can clear malfunctions behind moving cover with this product. PatrolBat advantages include:
•    Simultaneously hide the head and groin behind reliable ballistic cover
•    Shoot accurately and quickly while moving
•    Have unlimited visibility while approaching and engaging a threat
•    Bump into people, furniture, doors and other hard objects without torqueing the shield and degrading accuracy of shot placement
•    Absorb multiple impacts
PROTECH Tactical has a new Type IV Armor Piercing Threat Plate (Model 2230). This new plate has satisfied the hard armor plate requirements of the National Institute of Justice's (NIJ) Voluntary Body Armor Compliance Testing Program under NIJ Standard-0101.06 (NIJ-06).
The Model 2230 has been successfully tested to defeat the .30 Caliber M2-AP (Armor Piercing) round. Manufactured using a ceramic-aramid composite and featuring exclusive UNEQUAL DEFCONTM blunt trauma reduction technology, the Model 2230 is a robust, multi-curve plate design with a military-style shooter's cut to offer greater range of motion in the arm and upper chest area while shouldering a long arm weapon.
This 10" x 12" high-performing plate weighs approximately 7.5 lbs. and is approximately 1.15" thick.
Improved Comfort and Wearability
Near and dear to my military heart, PROTECH Tactical also announced the R2S System (Ratchet Retention Suspension System) for PROTECH ballistic helmets. It uses a knob located at the base of the helmet to quickly adjust the suspension size.
The R2S System is compatible with the PROTECH DeltaTM 4 family of ballistic helmets or any large ACH/Warrior style helmet with a 4-bolt pattern and can be easily installed as a replacement for existing suspension systems. 
GH Armor Systems just released their HeliX IIIA ballistic vest, known to be one of the most wearable Level IIIA (NIJ Standard-0101.06) available today. The HeliX has a water resistant cover and a hybrid construction of Kevlar, Dyneema, Spectra Shield, and Goldshield materials. The ProTect internal ballistic desiccant system is designed to keep the wearer comfortable. This product emphasizes flexibility, both for the wearer and in the types of carriers available for the panels.  
Survival Armor has improved the comfort of their system with the Vertex, which is available in all of their ballistic packages. The Vertex has: 
•    Super Mini-Rip Stop outer fabric
•    Climate Control, Odor Resistant & Anti-Microbial moisture management system
•    Dual 5 x 8 & 7 x 9 stealth plate pockets
•    LDSS, the patented Load Distributing Strapping System
•    Options include tails and hard or soft plate inserts
The Vertex carrier can be upgraded to ShockShield, an ElectroShock weapons protection feature that protects the officer from discharged electricity. The ShockShield upgrade uses a highly conductive, lightweight material to disperse the electric charge. Having been on the receiving end, I think this is the way to go!
I used to patrol in 100-plus degree temperatures and experimented with several different methods of keeping cool in a vest. Some of them helped for a while, but many were the equivalent of wearing thermals under one's vest. This is not good when someone decides to crash in the midday temperatures and the officer has to take measurements. 
The Cortac CTAV (Cooling and Trauma Attenuating Vest) is the answer here. It lowers the temperature behind the vest, keeps the officer drier, and actually attenuates blunt trauma force when the vest does its job. Apparently, it lowers the body surface temperature as much as nine degrees. 
Protecting the Wedding Tackle
Another product that has gotten some attention lately is the Nutshellz Armored Cup, which offers bullet-resistant groin protection. While there is no NIJ rating or certification for protective cups, CEO Jeremiah Raber spent seven years and nearly $100,000 perfecting in his basement, and there is video of him firing 9mm rounds at the cup. The Nutshellz cup is worn in a jockstrap or sport-compression short — Raber recommends the Diamond MMA four-strap supporter — but one also might wonder if it could be worn in conjunction with the Blast Boxer. 
The Blast Boxer was developed by a UK company called BCB International for soldiers in theaters of war in which IEDs are prevalent. The company says that the severity of perineal and femoral artery injuries of an IED blast can be diminished by wearing these boxer shorts that constructed from a "special comfortable Aramid fabric, positioned around crucial zones of the groin."
Finally, don't overlook ballistic protection eyewear. ESS has rolled out the new Rollbar, an ANSI Z87+ and MIL SPEC ballistic protection eye product with rapid interchangeable lenses. Statistically, eyewear is as important as the protective vest for an officer. The ballistic standards won't stop bullets, but they reduce injury from secondary projectiles and other hazards, keeping the officer in the fight. 
I have, by the way, shot an ESS lens with a 12 gauge #7 load at 10 yards. They dimpled, but prevailed. 
Stay safe, wear your vest and watch your six.