PRESS RELEASE
5.11 Partners with Wiley X on ANSI and EN-Approved 5.11 Ascend Eyewear with Standard or Polarized Lenses
---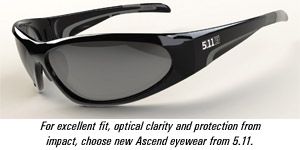 5.11 Tactical® has once again teamed up with Wiley X Eyewear® to offer cutting-edge eye protection. For 20 years, Wiley X has provided critical eye protection to the FBI, DEA, Army Rangers, Navy SEALS and other elite Special Forces units. Designed, manufactured and tested by Wiley X for optimal precision, durability and safety, 5.11's state-of-the-art Ascend sunglasses feature die-cut Selenite™ polycarbonate lenses that prevent angular distortion and offer 10 times the impact resistance of glass or resin. A T-Shell™ lens coating provides scratch, crack and craze (stress mark) resistance. Frames are built with virtually indestructible Grilamid® TR-90 homopolyamide nylon for extremely high bend strength, low density and high resistance to chemical and UV damage. Oil and sweat-resistant rubber contact points at the nose and temples make these sunglasses extra comfortable for work, training, recreation and travel.

Priced at only $69.99 for standard lenses and $89.99 for polarized lenses, the Ascend's low-profile, close-fitting design is made to compliment every face shape, the and features stylish gloss black frames with smoke-colored lenses, and comes with a free accessory kit worth $25. Also available are the Shear and Climb models, which like the Ascend, exceed both ANSI Z87.1-2003 and EN 166 safety and optical standards, according to an independent testing laboratory.

To find all 5.11 eyewear styles and to locate your closest 5.11 Full Line Dealer, visit www.511tactical.com.  

About 5.11 Tactical Series®
Located in Modesto, California, 5.11 Tactical Series® creates innovative, user-required products that enhance the safety, speed and performance of law enforcement, military, fire and EMS professionals worldwide. Built on a foundation of durability, quality and value that began with the authentic 5.11 Tactical Pant, 5.11's team of over 300 employees leads the industry in delivering the world's most innovative gear, head to toe. By working directly with end-users and utilizing the expertise of highly-qualified subject matter experts, all 5.11 products exceed rigorous and exacting standards. Learn more about 5.11's best-selling tactical clothing, uniforms, station-wear, outerwear, footwear and accessories at www.511tactical.com.  



Request more info from 5.11 Tactical
Thank You!