PRESS RELEASE
5.11® & Wiley X® Collaboration Yields Cutting-Edge, ANSI-Approved Protective Eyewear
---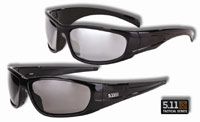 5.11 Tactical® has teamed up with Wiley X Eyewear® to create a superior line of high-performance eyewear. "We entered into a partnership with Wiley X® to offer our customers a wider selection of styles that meet or exceed our customers' needs as well as all of the industry standards," says 5.11 CEO Dan Costa. "Not only does Wiley X share our commitment to excellence, there's probably no other brand out there that has protected more eyes than Wiley X."
A recognized leader in research and development of protective eyewear, Wiley X® has 20 years of experience in providing advanced eyewear solutions to military and commercial markets. Wiley X utilizes state-of-the-art technology to supply battle-ready critical eye protection to the FBI, DEA, Army Rangers, Navy SEALS and other elite Special Forces units. According to Myles Freeman, Wiley X Vice President of Sales and co-owner of Wiley X Eyewear®, the company takes great pride in "producing high-velocity protection that works."
The new collaborative 5.11 Tacticalâ eyewear line is engineered for the varying needs and conditions of Law Enforcement, Military and Public Safety professionals worldwide, and all eyewear styles are designed, manufactured and tested exclusively by Wiley X®.
Manufactured to exceed ANSI Z87.1 safety and ANSI Z80.3 optical standards, all styles in 5.11 Tactical's new eyewear line designed by Wiley X® include die-cut, low distortion Seleniteä polycarbonate lenses – which are 10 times more impact resistant than glass or resin. A T-Shell™ lens coating provides scratch, crack and craze (surface stress mark) resistance. Also included are a proprietary Wiley X anti-reflective optical filter coating to eliminate back-lit glare that can lead to eye fatigue and strain. Frames are made with virtually indestructible Grilamid® TR-90 homopolyamide nylon, which also resists chemical and UV damage. Oil and sweat-resistant rubber touch points at the nose and temples make these sunglasses extra comfortable for work, training, recreation and travel. Both new styles, the
Climb
and the
Shear
, have excellent fit, optical clarity, ballistic protection, and provide full UVA/UVB protection. They also come with a molle-compatible 5.11® SlickStick™ protective carry case, cleaning bag and strap, and are competitively priced at $69.99. Visit
www.5.11tactical.com
, where you can find a local 5.11 Dealer and check out the latest in 5.11 eyewear, Light for Life™ flashlights, packs, bags and more.
About 5.11 Tactical Series®
Located in Modesto, California, 5.11 Tactical Series creates innovative, user-required products that enhance the safety, speed and performance of law enforcement, military and fire/EMS professionals. Built on a foundation of durability, quality and value, 5.11 Tactical's team of more than 200 employees leads the industry in delivering functionally innovative gear, head to toe. The company was ranked #211 on the 2007 Inc. 500 list. Learn more about 5.11's best-selling tactical clothing, station wear, uniforms, outerwear, footwear and accessories at www.511tactical.com.