PRESS RELEASE
Blauer's pathogen-resistant B.DRY response parka now available in hi vis and dark navy
---
Boston, Mass. – Blauer's innovative pathogen resistant B.DRY® Response Parka, which meets ASTM F 1671 against bodily fluids, is now available in both Hi-Vis and Dark Navy color schemes. The Hi-Vis, already a favorite amongst fire, EMS, and police agencies, is certified to ANSI 107-2010 Class 2, while the Dark Navy features a band of 3M ScotchLite™ material in a crosswalk pattern around the waist and lower sleeves for enhanced visibility when needed.
Both jackets are PPE in every sense of the term, with specially built responder pockets to carry needed equipment, including outer and inner jacket pockets with external storage slots, bilateral sleeve pockets for gloves or other gear, and a lightweight, flexible shell design. The 9848V (Hi Vis) and 9848 are also compatible with all Blauer System Outerwear liners, offering multiple options for warmth, while also providing the responder with a secondary stand-alone jacket for other needs.
By offering superior protection for those in the field, both variants of the B.DRY® Response Parka helps shield responders from both the elements and some of the hazards that they face on the job, and helps to increase visibility both on the road and off. For more information, visit the product links below.
Hi Vis: http://www.blauer.com/hi-vis-b-dry-response-parka-9848v.html
Dark Navy: http://www.blauer.com/b-dry-response-parka-9848.html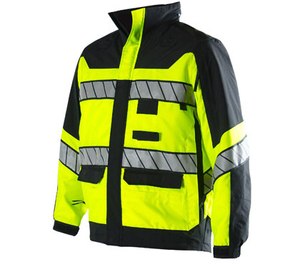 Request more info from Blauer Manufacturing Co. Inc.
Thank You!