PRESS RELEASE
ESS Introduces Crossbow Suppressor™ Eyeshield
---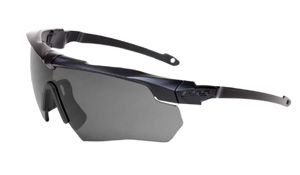 World's First Ballistic Eye Pro Built to Work with Hearing Pro/Comm Gear

Eye Safety Systems, Inc. (ESS) today announced the introduction of a new ballistic eyeshield: the Crossbow SuppressorTM. The first eyewear designed specifically for use under ear cup hearing protection and communications gear, the Crossbow SuppressorTM maintains the effectiveness ofsuch devices and eliminates soreness around the ear caused by pinching and pressure.

The Crossbow Suppressor™ will benefit the wide range of end users who wear ear cup devices by providing better performance and increased comfort. Soldiers, pilots, hunters and shooters, heavy equipment operators, and many others will appreciate the product's purpose-built ergonomic design.

"Everyone who has field-tested the Suppressor has given it a very positive review," said Brian Ross, ESS Senior Vice President, Sales and Marketing. "Our customers have been looking for a product that provides this sort of relief. We at ESS are excited to provide another industry first, one with beneficial applications in familiar and new marketplaces."

The Crossbow Suppressor™ builds upon ESS' successful Crossbow™ eyeshield platform, with the new offering incorporating the same ballistic lens as a regular Crossbow™ but exchanging the standard eyeshield frame for an ultra-thin Crossbow Suppressor™ frame. This new frame is cross-compatible with any other product in the ESS Crossbow™ series.

The Crossbow Suppressor 2X™ is configured for the U.S. military, international defense forces, and retail markets. It includes two eyeshields, one with the Crossbow Suppressor™ frame preassembled with a clear lens, and one with a standard Crossbow™ frame and a smoke gray lens. The Suppressor ONE™ is a configuration for the tactical and shooting communities, and includes a Crossbow Suppressor™ with a high-definition copper lens ideal for targeting. The Suppressor™ frame may also be purchased separately, allowing those who own other Crossbow™ product configurations to upgrade and optimize their protective eyewear for use under ear cup devices.

The ESS Crossbow™ eyeshield is compliant with U.S. Federal OSHA, ANSI Z87.1+, U.S. MIL SPEC MIL-PRF-31013, and CE EN 166. All Crossbow™ lenses provide 100% UVA/UVB protection. The Crossbow™ Unit Issue Kit has met stringent requirements to earn a coveted position on the U.S. Army's APEL [Authorized Protective Eyewear List].

Visit www.esseyepro.com/crossbow for further details.

About ESS
Established in 1998, Eye Safety Systems, Inc. (ESS) creates advanced eye protection systems for military, law enforcement, and fire/rescue professionals. Designed for the planet's most hostile and unforgiving environments, ESS products feature cutting-edge technologies and patented innovations to ensure peak performance and uncompromised eye safety. Headquartered in Sun Valley, Idaho, ESS is a wholly-owned subsidiary of Oakley, Inc. ESS eye pro is manufactured in Foothill Ranch, California, and sold in over 100 countries. For more information, please visit www.esseyepro.com.

Request more info from Eye Safety Systems
Thank You!