PRESS RELEASE
Introducing Pivothead HD Video Recordable Glasses
---
Sunglasses that record video and audio
The newest, camera glasses on the market that record from the center of the glasses As You See It. This new POV or (point of view) camera captures audio and video in three HD formats 1080P, 720/30fps , 720/60fps or record still frames at 8 mega pixels by a flip of a switch.
Download your video from the on board internal memory through the USB connection right to your PC, MAC or Ipad. Record audio and video up to 1 hr. or 8 Gig. of file space. 1 hr. of battery time, rechargeable battery, 4 styes ,16 different glasses they even come in polarized or non-polarized lenses.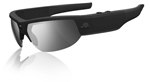 The Durango style can be used with your prescription lenses. The Aurora style's are non polarized . The optional Pivothead Hotspot or Air Pivothead will interface to the internet after downloading your material. This simple device looks for a 3/4 G network and locks to the signal providing connection for the hotspot for downloading. The Air Pivothead will interface to the Ipad, Iphone and Android with a simple app from Pivothead.
Coming soon the Vacuum, this device will draw your memory from the on board storage of the glasses and transfer your data out at a very high speed allowing for your next 8 Gig of storage space. The Battery Strap will increase your battery life to over 2 hrs of record time. So if it's fun or work using your Pivothead sunglasses makes every video recording project easy and records it As You See It.
Please see the attachments for all the information on the Pivothead HD recordable Sunglasses. Attachments are the brochures for all the models and colors our website at Midwest Digital Corp.com and two links that show where and how the glasses work. If anything else is needed please call (708) 790-4040 or email midwestdig@gmail.com. Thank you from Midwest Digital and Pivothead. We are also looking for dealers.
http://www.midwestdigitalcorp.com/Pivothead-HD-Recordable-Glasses_c_40.html
http://www.midwestdigitalcorp.com/Pivothead-Recordable-Eyewear-Durango-Smoke-BL-07_p_538.html