PRESS RELEASE
Revision Launches Next Generation Spectacle: The Sawfly®-TX Tactical Eyewear System
---
use if there is a picture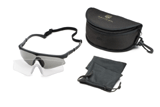 Essex Junction, VT, USA (February 12, 2009) – Revision Eyewear, leading supplier of ballistic eyewear to the U.S. Military, launches the Sawfly-TX Tactical Eyewear System, a next generation ballistic spectacle that provides superior communications and headset compatibility, with custom lens shapes for enhanced mission performance.
The Sawfly-TX Eyewear System's weightless frame provides second-to-none comfort, while ultra-thin arms ensure comfortable compatibility with ear-pro and communications headsets. The Sawfly-TX frame, developed with input from a variety of U.S. Military Special Operations Forces, is specifically engineered to maintain the seal between the wearer's headset and ear, resulting in minimal noise leakage and uncompromised hearing protection. Its adjustable arms and low-profile design offer full compatibility with helmets, weapon sights and NVGs.
Purpose-built to enhance performance, the Sawfly-TX Tactical Eyewear System offers two custom lens solutions. The Sawfly-TXP is designed for high activity missions where big airflow provides superior fog protection; while the Sawfly-TXM is designed for high threat environments where maximum lateral lens coverage gives added protection. True to the entire Sawfly Eyewear line, the Sawfly-TX Tactical Eyewear System exceeds military specifications for ballistic protection (MIL-PRF-31013 clause 3.5.1.1; MIL-DTL-43511D clause 3.5.10; and EN 166, 170 and 172). The system provides flawless optics, interchangeable lenses and is prescription (Rx) ready. The two-lens Essential Kit (Sawfly-TXP or Sawfly-TXM) retails for $99.99.
"The Sawfly-TX Tactical Eyewear System is purpose-built to meet the performance needs of tactical users and Special Operations Forces, where eyewear interference with communications equipment can compromise mission success," says Jonathan Blanshay, CEO of Revision Eyewear. "The Sawfly-TX Eyewear System debunks the age-old myth that eye-pro and ear-pro simply don't mix, providing operators with superior eye protection that no longer sacrifices hearing protection and comfort for sight safety."
ABOUT REVISION
Revision Eyewear develops purpose-built eyewear for military, law enforcement and tactical clients worldwide. Revision products deliver the highest standards of protection, optical clarity, durability, compatibility and comfort. Major clients include all services within the U.S. Military, the Canadian Department of National Defence, the Belgian Ministry of Defence, the Swiss Department of Defence, and the Netherlands Armed Forces. Privately owned and ISO 9001:2000 certified, Revision's operational facility is located in Essex Junction, Vermont, USA, with additional offices in the U.K. and Canada. For more information, visit www.revisioneyewear.com, write info@revisioneyewear.com, or call +1 603-436-1748.