From patrol officer to police chief, Thorogood has a boot for you
Comfortable, functional footwear for every stage in your law enforcement career
---

By Victor Masters for Police1 BrandFocus
"My back hurts." "My hips hurt." "My knee is killing me." If you have any amount of time on the job, at one point or another you've said one of those things and wondered what you can do to fix it. You may have tried various vest carriers, belts, suspenders or other items to relieve your pain with varying levels of success.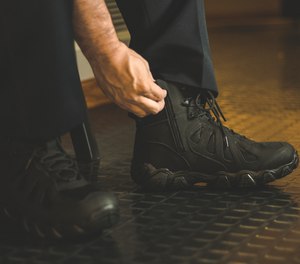 With over a decade on the job, I've made those same statements and tried countless methods to alleviate the pain. During roll call one day, a veteran officer and I were discussing this very issue when he informed me about the solution to these very issues that was simple, effective and long-lasting. Proper footwear.
Oftentimes, the academy and or your agency dictate what type of footwear you must wear. While these mandates may look good for the purpose of uniformity and having boots that shine as bright as the sun, the one-size fits all approach does not work when it comes to comfort and staving off long-term pain or injuries that result due to improper footwear.
Finding proper footwear that offers you good stability, support, traction and comfort early in your career will help you keep the pain at bay. Especially for those of you who are routinely assigned to a foot beat. As you progress through your career, you will likely find yourself needing a variety of styles of footwear. From the polishable toe boot at the beginning, to the more tactical utilitarian boot to an Oxford style shoe for supervisor-level office and dress uniform attire, Thorogood has you covered.
Humble Beginnings - Footwear to impress at the academy and beyond
As you start off your career, just about every agency and/or academy requires that you must present yourself day one with a boot with a polishable toe. The Thorogood Deuce boot complies with this requirement and comes in a variety of sizes and styles including waterproof, side-zip, safety toe along with 6" or 8" heights for additional ankle support. Upon graduating from the Academy, the Deuce is still an excellent choice for those who want to maintain their professional appearance while traversing field training, probation and the first few years on the job where you are constantly under the microscope.
From tactical operations to daily duty - The Crosstrex covers common ground
One day, you make decide that you want to make the move into a more high-speed tactical position with your agencies SWAT team or as a K9 handler. These positions often come with additional needs when it comes to footwear. Being able to fast rope, carry heavy, gear laden kits, traverse uneven and oftentimes treacherous terrain while tracking suspects or moving in to serve a warrant, the Thorogood Crosstrex is an excellent choice for an all-purpose utilitarian tactical boot that will get the job done and provide you an unparalleled level of comfort and support. As with the Deuce, it comes with various size options, side-zip, waterproof and varying heights including an Oxford height for those who require more flexibility in the ankle region.
The Thorogood Crosstrex is also a great all-around daily wear patrol boot for those fortunate enough to work for agencies that allow for a variety of footwear choices outside of the usual polished toe requirement. They provide the comfort of a typical athletic shoe with the grip and stability of a duty boot.
Advance your career and your footwear with it
As you progress through your career, you may one day find yourself with Lieutenant bars or even Chief stars on your collar. With these bars and stars comes administrative meetings with council members, community outreach meetings and other public facing events. You need to look your best at all times. You find yourself going to work in your Class A's almost daily and with that comes the need for new footwear that matches your polished and professional appearance. The Thorogood Oxford line meets the requirements to help you dress for success during your day to day.
The Thorogood Oxford line boasts multiple styles of Oxford shoes including a high gloss finish Poromeric Oxford model, the polishable toe Classic Leather Oxford model and for more relaxed events that may require some traction and movement, the Soft Streets Double Track Oxford fits the bill.
Thorogood from the starting line to the finish line
With all the Thorogood footwear options available, you can begin and end your career knowing that Thorogood has a boot specifically designed to follow you along your law enforcement career path. From the rigors of academy, the daily grind of the patrol beat, veering off the beaten path to track suspects and to the administrative life later in your career, Thorogood has your six. 
About the author
Victor Masters is an active-duty police officer for a municipal police department in western Washington. He began his career in 2010 with the U.S. Border Patrol in El Centro, California. He has served as a patrol officer, forensic artist, intelligence agent and public affairs agent. Since 2016, he has been assigned as a public information officer and recruiter.
Request information from OfficerStore.com
Thank You!