Review: I put these boots to the test to see if they'd hold up
Specifically designed for a law enforcement officer's performance and comfort, see how HAIX Black Eagle tactical boots stood up to the job
---
By Jerrod Fraley for Police1 BrandFocus
Recently, I received a pair of HAIX (pronounced "Hikes") Black Eagle Tactical 2.0 GTX Mid Side Zip boots to test, evaluate and review. The seemingly never-ending quest to find a duty boot that satisfies both the professional appearance required by administrators as well as the specific needs of patrol officers and SWAT operators looks to have a definite front runner with these boots.
I have had this pair of boots for approximately one month, and within that timeframe I have exposed them to almost every situation possible. I have worn them exclusively on daily patrol, as well as instructed at a week-long SWAT school in them, consisting of 10- to 12-hour days with interior and exterior training locations and outside at the shooting range.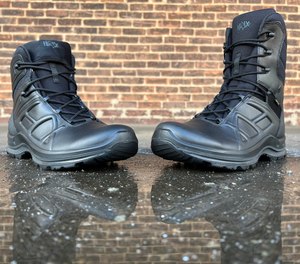 The boots have been exposed to a foot pursuit, physically pushing a large disabled work vehicle out of harm's way and navigating through debris and waist-high vegetation searching for victims and evidence after a rollover crash on the highway.
The weather conditions ranged from triple digits without a cloud in the sky to torrential downpours with ankle-deep pockets of water.
Throughout every one of those incidents and conditions, the HAIX Black Eagle Tactical 2.0 GTX Mid Side Zip boots performed flawlessly for me.
Professional, Yet Tactical
When choosing a duty boot that has to look professional yet serve a tactical purpose, this boot checks all the boxes. No matter what you put this boot through, the ease of polishing it back to a pristine shine takes minimal effort and elbow grease.
Not only does this boot exude a polished and professional appearance for when formalities are in order, it also embodies HAIX's trademark "HX" design on both sides of each boot, giving it just enough contrast to have a tactical appeal as well. I feel like HAIX hit the nail on the head with this design, appealing to administrators and officers alike.
HAIX put an incredible amount of thought and consideration into the Black Eagle Tactical 2.0 GTX Mid Side Zip boot without overlooking even the smallest details. The laces, eyelet design and integrated pocket at the top of the tongue to tuck the laces into do a phenomenal job keeping proper tension and fit once tied without loosening, untying, or catching on anything. These boots are the perfect combination of being very lightweight, mid-level height (6 inches), and having a professional appearance, all the while undeniably performing like a high-end athletic shoe.
Where the rubber meets the road
I am beyond impressed with the unparalleled all-day comfort and void of normal everyday aches and pains since I started wearing these boots. The research, design, and technology HAIX has put into the development of these boots is second to none. The distinctive tread design and special rubber compound of the sole allows for more traction with any surface, alleviating the stress placed on stabilizer muscles within the foot and leg. Top that off with the incredible amount of cushion in the high-density midsole and you essentially have a functioning shock absorber within the boot itself helping to prevent fatigue.
I found no matter what the outside air temperature or asphalt temperature was, my feet never felt overheated. This was the result of two incredible innovations. First, the HAIX Black Eagle Tactical 2.0 GTX Mid Side Zip was designed with Sun Reflect technology. This is a chemical treatment during the tanning of the boot to allow the leather to reflect more sunlight and heat, resulting in the boot being cooler both internally and externally. Second is the implementation of the "HAIX Climate System." This brilliant design allows vent holes at the top of the boot to release the hot, moist air from your feet, all while allowing cooler, fresh air into the boot with each step. I can't count how many times I've felt like my feet were literally going to catch on fire from being inside other manufacturer's boots all day long; this has yet to be the case with HAIX boots, even in triple digit temperatures.
In the past, when it comes to boots with side zippers, personally, I've not been a fan. This was for several reasons. While side zippers allow for the convenience of quickly putting the boots on and taking them off, I'm usually left feeling dissatisfied with a consistent fit and feel each time I wore them. Also, I've found the side zipper on many boots tends to be the weak point wherein the GORE-TEX lining fails, ultimately leaving you with soggy feet.
Once again, HAIX has crushed my skepticism in both of these aspects of their boot. Every single time I've worn the Black Eagle Tactical 2.0 GTX Mid Side Zip boot, the fit has been consistent, comfortable, and unwavering. To test the side zipper's ability to compliment the GORE-TEX lining, I have stood in ankle deep water multiple times, several of which were for extended periods. My feet remained dry and comfortable as the boots didn't allow a single drop of water to enter.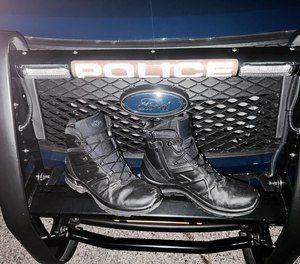 In my final analysis
To say the HAIX Black Eagle Tactical 2.0 GTX Mid Side Zip checks all the right boxes is an understatement. I am currently in my 17th year as a law enforcement officer and this pair of boots has already outperformed any and all previous duty boots I have worn. The innovation, design features and quality that HAIX has incorporated into the development of these boots, which are specifically created for the law enforcement officer, is nothing short of top notch. If you're searching for a new pair of duty boots, do yourself a favor and pick up a pair of these. You won't be disappointed.
Judge for yourself
Want to find out for yourself if HAIX boots are the most comfortable and durable boots you've ever worn? HAIX will be conducting a wear test to select 1000 police officers to test one of two side-zip models of boots.
Go to www.haixusa.com/1000 to apply for a chance to be a HAIX 1000 pair weartest participant. (Signing up does not guarantee you will be selected.)
1,000 officers will be selected from all entries submitted by August 31st and will be notified via email. Those selected to participate in weartest must wear their pair of Haix Black Eagle 2.0 boots while on active duty throughout the month of September and fill out and submit an online feedback form by October 15th. Those who complete the weartest will get to keep their boots.
To apply for a chance to be a Weartest Participant CLICK HERE!
About the author
Jerrod Fraley is an active-duty patrol officer in Ohio. His assignments have included patrol, detective, FTO, regional SWAT team member and training coordinator, as well as serving as a member of his department's training staff. In addition to his primary duties, he is also a member of the (Ohio Tactical Officers Association) Red Team Instructor Cadre, where he teaches basic and advance SWAT and firearms courses across the state.

Request information from HAIX North America, Inc.
Thank You!