PRESS RELEASE
Bates Launches Anti-Fatigue Boots with New Technology
---
Products feature newly developed Endurance Performance System®
ROCKFORD, Mich. – Comfort meets function with Bates newest line of products, the Strike 6" and 8" anti-fatigue boot. Both styles feature black waterproof leather and membrane, a YKKÒ nylon side zipper, and a multi terrain slip resistant rubber lug outsole.
"The development objective of the Strike boot was to create a highly durable waterproof boot that is both breathable and comfortable," said Eric Fracassi, Product Development Director, Bates Footwear. "We've achieved that in an amazing looking boot and the features and benefits really set us apart from the competition."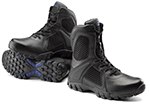 The unique technology that creates this long lasting comfort is Bates Endurance Performance System. Developed to deliver extreme cushion and durability, this four-part technology works inside of the boot to provide all day comfort.
The first layer is the durable rubber lug outsole. The slip resistant outsole is long wearing with a multi terrain design that provides superior traction and stability. The second layer features a nylon shank that adds both support and stability. Following the shank is a dual density EVA midsole that mitigates shock and redistributes pressure. Lastly the dual density foot bed includes memory foam and provides arch support and cushion.
Consumers and industry professionals received their first look at the Strike product in January at the SHOT (Shooting, Hunting and Outdoor Trade) Show in Las Vegas, Nevada. The boots garnered positive reviews for their stylish appearance as well as the extreme comfort and breathability they provide. Strike product will be available May 1, 2015 at www.batesfootwear.com and at retailers across the country.
About Bates Footwear
Bates is a leading supplier of uniform footwear to all branches of the U.S. Military and has built a reputation for uncompromising performance in uniform footwear for more than 125 years. Engineered advancements such as Code 6, Bates Individual Comfort System and Bates DuraShocksÒ technology set the brand apart and cement its status as the gold standard in uniform footwear. For more information and to view the product lines visit www.batesfootwear.com.