PRESS RELEASE
Introducing the Minimalist Training Boot
---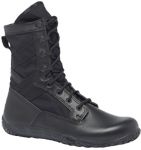 A true minimalist boot featuring a 5mm "drop" between the heel & forefoot, the MINI-MiL™ is designed specifically for the conditioned warrior athlete currently training in minimalist athletic footwear. This quick-drying unlined boot is not only highly breathable, but lightweight too - weighing less than 2 lbs a pair.
• A true minimalist boot with a 5 millimeter "drop"
• Exclusive Vibram® "Tarsus" oil and slip resistant rubber
• Highly breathable unlined leather & nylon upper
• Double & triple stitched seams for enhanced durability
• Padded Achilles support
• 8" height
Click here to learn more about the MINI-Mil™.
PLEASE READ BEFORE PURCHASING: If you are wearing the MINI-MiL™ for the first time or have not previously trained in minimalist footwear such as Vibram® FiveFingers, we encourage a very gradual transition as you will be using new muscles in the feet and lower legs. We recommend wearing the MINI-MiL™ for 1 – 2 hour intervals the first few weeks. Gradually increase usage as your body strengthens and adapts.

Request more info from Tactical Research by Belleville
Thank You!