10 essentials: How to pack light and smart for your hike
Here are 10 gadgets you'll want to take with you no matter how far the journey – and they won't weigh you down!
---
By TacticaList Staff
When it comes to what to pack for a day hike, everyone has a different opinion. Some preach, 'pack the bare minimum and keep it light!' while others insist no matter where you're hiking, pack the same each time and be as prepared as you can be.  
Any good tacticalist can both pack light and be prepared for just about anything. We've aggregated responses from hiking pros on expert forums, Quora, and some of our favorite columnists to bring you a list of must-haves for day hikes.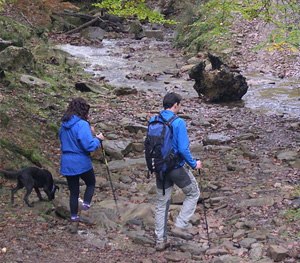 First off, any seasoned outdoorsman will tell you: never pack for the time you plan to be gone. If you're heading off for a day hike, pack as if you'll be gone 24 hours. Exlcuding the obvious (clothing, water, and high-energy food) here are 10 gadgets you'll want to take with you no matter the journey – and they won't weigh you down!
1. A small, lightweight but powerful emergency headlamp.  A headlamp for a day hike? Time flies when you're having fun – and if you've gotten lost or simply lost track of time, lighting the trail can make all the difference.  (Check out Petzl's Performance Series headlamps)
2. A first aid kit in a waterproof  container containing: bandages, gauze, ibuprofen, anti-inflammatory spray or oral medication, alcohol wipes, and an anti-blister/chafing stick.  (Store-bought first aid kits are great because they're already packed tight – just swap put what you don't need for your essentials).  
3. UVA and UVB sun protection. This includes sunblock, polarized sunglasses, and hats. High altitudes, bare rocks, and snow can cause eye damage as well as skin damage.
4. Hand sanitizer and disposable gloves. (They'll come in handy in a medical emergency or just picking up trash).
5. A lightweight multi-tool. The Squirt PS4 by Leatherman is only 2 ounces and packs 9 tools into its tiny frame, including a screwdriver, 420HC knife, pliers, and bottle opener.
6. Tick and bug repellant wipes are lighter and more compact than most spray bottles. Ben's Tick and Insect Repellant wipes come 12 in a package and are individually wrapped.
7. A miniature lighter or matches in a waterproof container. (Pro tip: Wrap your duct tape around your lighter for more compact carrying).
8. Iodine tablets or a water purification system. (Yes, you brought water, but nothing lets panic set in faster than being out of clean drinking water).  The Sawyer Mini is a mere 1.4 ounces and can last for 100,000 gallons. Another more advanced option is an ultraviolet handheld water purifier, such as the Steripen.
9. A map. A GPS is of course preferable, especially if you're not on a trail, but it's not always dependable and a GPS is guaranteed to be heavier than a map. Topo maps are well trusted and used by outdoorsmen nationwide. 
10. A poncho that doubles as a tarp. If plans change and your day trip has become a night trip, it's waterproof, and it can suffice as shelter (especially if you bring trekking poles on your hikes).  Check out the Ultralite extension poncho/tarp by Campmor.
Do you have more hiking gadgets you never leave home without? Tell us about them in the comments section below!