Color night vision opens up a palette of viewing possibilities
A new line of color night vision cameras expand capabilities without busting your budget
---
Sponsored by SIONYX
By Sean Curtis for Police1 BrandFocus
An exciting line of night vision cameras offering color viewing recently entered the market at extremely affordable prices. With an entire array of models to fill your individual or agency requirements, SIONYX has several models in the Aurora family that strike the balance between affordable quality and the feature sets you need on your mission.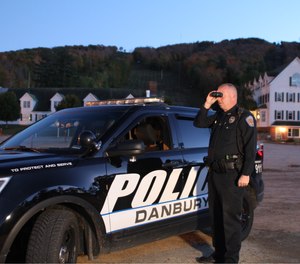 Gone are the days of monochrome or the lime green coloration that left the human eye wanting more when it came to distinguishing various items in a picture. Sure, it was amazing to be able to see in the dark, but now things have gotten so much better. SIONYX has brought color night vision into reality. This is important for many reasons, especially those pertaining to law enforcement.
Harnessing the power of Aurora
Being able to positively identify one suspect from another during an active investigation is critical at the time. Additionally, viewing in color will help officers distinguish targets. It could come down to actually making identification on a hostile threat (red shirt) and communicating that to other officers who might intercept. These are all incredibly important reasons to have a whole color palette at your fingertips when peering into the night.
Not only does the Aurora line offer color night vision, it can record the observations you make while using it. By adding a microSD card, you can record and store video from your camera in one of three settings: day, twilight and night. Recorded observations you make during investigations are available for replay when you get the suspect before a jury.
Remote deployment is a capability with the accompanying SIONYX app. You can sync the Aurora to your phone and still activate it or pull video from 25-30 feet away. Acting as a WIFI device, the Aurora cannot be accessed by another device once it is paired, so the information is secure. Setting up an Aurora as a pole cam might give you that crucial evidence you need to close your case. Some agencies have even mounted the Aurora to a van for nighttime investigations where they review the footage via live stream while in the van while close and can take immediate action if the situation calls for it.
Another benefit you gain with using the Aurora is not announcing or potentially compromising your position. Patrol units pulling up at night typically dark out their cars and park a distance away when responding to a call. Imagine being able to survey your scene without shining a flashlight around that tells everyone in eyesight where you are. Marine units have even mounted Auroras to the bow of their vessels to navigate the water at night. No light needs to be shined. The officer can approach the scene safer and better informed on what lies ahead.  
You may be surprised what you see through Aurora. SWAT operators completing a workup on a facility could use it to survey the situation at night and detect security cameras being used by inhabitants. The Aurora spots the IR light they put out like a beacon. Here again, it's better to learn this information up front. By the same token, Aurora is able to see beyond 1,100 nanometers allowing more of the infrared spectrum to be utilized than analog night vision devices.  This also means the unit can be used in conjunction with IR illuminators and IR pointers to enhance overall performance.
Finally, training is a critical area where Aurora can help take your agency to the next level. By mounting one up to a helmet, or using one during night training operations, instructors can download the videos for review, critique and improvement. Shoot houses running night or dim-light trainings would benefit greatly from a digital recorder not blinded by the dark.
Choose your model
The Aurora Black is the first in the line that is not only ruggedized, but recoil rated. Combined with the Aurora Rail Mount, you can attach the Aurora Black to a Picatinny rail on the long gun of your choice. It's also rated to water resistance IP67. The Aurora Black can operate in low light down to a quarter moon and retails for $699.00. For a limited time only, the Aurora Black comes with a Picatinny rail mount.
The Aurora is a step up in capability in that it has all the features of the Black but adds an internal GPS, compass and accelerometer. Being able to definitively indicate latitude and longitude can be crucial to determining crime location and jurisdiction. Also recoil rated, the Aurora can operate in quarter moon lighting and is also IP67 rated. The Aurora retails for $799.00.
Finally, the Aurora Pro is the top-of-the-line option, combining all the features of the above models while adding an enhanced sensor and a 32GB microSD card. The night vision capability of the Pro is outstanding, picking up and delivering color vision all the way down to moonless starlight. The Aurora Pro retails for $999.00.
Affordable night vision is here
The days of monochrome vision, light-sensitive optics and multi-thousand-dollar purchases are gone. With the Aurora line, agencies can invest in multiple models that best suit their diverse, divisional agendas. Investigations can use them to conduct surveillance. Patrol can utilize them for night operations. SWAT can deploy them for reconnaissance, training or building clearing with the power off.
There is no doubt night vision remains a tactical advantage law enforcement can harness to complete missions. Now, thankfully, it comes in full color and won't tap your budget.
For more information about the color night vision, visit SIONYX.com.
Read next: 10 hot products on display at SHOT Show 2019
Request information from SIONYX
Thank You!