Spotlight: SIONYX brings quality, affordable, color night vision into the digital age
SIONYX's products help those in the field by increasing the success of their missions, goals and objectives
---
Company name: SIONYX
Headquarters: Beverly, Mass.
Signature Product: The Aurora
Website: https://www.sionyx.com/
1. Where did your company name originate from?
A very common question we get asked a lot. The name SIONYX is a combination of "Si," the symbol from the periodic table for silicon, and the word "Onyx," representing the black gem stone. Silicon is at the base of our sensor technology; it's really the ingredient that sets us apart from other digital night vision sensors. And, Onyx represents our production process that was coined by our founder as "Black Silicon" that underpins the technology and corporate name SIONYX.
2. What was the inspiration behind starting your company?
To create a true color digital night vision platform that is affordable with contemporary features. The government, public safety community and consumers and all have been asking for someone to evolve traditional night vision with the ability to record, add GPS, compass, Wi-Fi connectivity, yet not sacrificing night vision capability. SIONYX accomplishes that.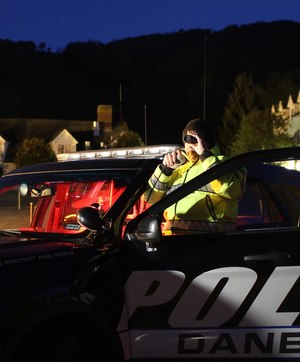 3. What is your signature product and how does it work?
The Aurora was the first color digital night vision system launched and remains the flagship. It combines the digital features of an action camera, such as Meta data, recoil-initiated video capture and Wi-Fi connectivity. The announced PRO model will add our next gen sensor increasing the low-light sensitivity. The Pro will be available in late June.
4. Why do you believe your products are essential to the first responder community?
Our products are well suited for all professional end-users. Whether you are on surveillance, needing situational awareness, evidence gathering, or search and rescue, the Aurora family of products will greatly increase the effectiveness and execution of your mission, and all greatly less than PVS-14s. In addition, the ability to record with Meta data has been successfully emitted in court as evidence.
5. What has been the biggest challenge your company has faced?
As a young company with a new name, our greatest struggle has been bringing a new technology to market, especially in a highly competitive market space. We now have the teams in place to not only launch new products, but have years of experience directly related to and serving the public safety and government space.
6. What makes your company unique?
SIONYX proprietary technology is very unique, where we are bringing quality, affordable, color night vision into the digital age. Our technology is currently being used in the highly anticipated IVAS program. Little is known about SIONYX. Like we are in development with other programs in the DoD, government contractors and NASA. This is truly the night vision technology company the world has been asking for that is now coming to life in the public safety space.
7. What do your customers like best about you and your products?
Full night vision capability with the benefits of recording and time-stamping, all while being affordable. The ability for increased situational awareness in the darkest of hours, and versatility of our product platforms sub-$1,299 retail is compelling. And, we are extremely easy to do business with. Unlike legacy night vision companies that have complex purchase processes, overwhelmed service departments, and marginal quality standards, SIONYX has a burning passion for service and quality, and it permeates through everything we do. People find it refreshing.
8. What is the most rewarding part of serving the first responder community?
We make a product for those that are out in the world helping others. Our products help those in the field by increasing the success of their missions, goals and objectives. Here is something that makes me proud. We have assembled a world-class advisory council made up of both retired and current LE, SWAT, patrol and military personnel. When they get excited about our products, and especially for the future product roadmap, we then get excited. 
SIONYX was developed to increase the capabilities of our soldiers. We take pride and comfort knowing they will be safer, better equipped and more effective in the field or on the streets. And, we are doing this with prices that have not been available before, allowing departments to equip more first responders or squads with more systems. Better equipped, safer, more effective. I take pride in that.
9. Do you support any charitable organizations within public safety? Tell us more.
Our support is engrained in our philosophy. The primary channel that will benefit from the Aurora is serving our first responders and public safety community. As a young company, we currently don't have any standing monetary contributions. This is something we will develop as we grow. We do offer support through discounted programs for agencies and individuals wanting to increase their low-light capabilities.   
10. Is there any fun fact or trivia that you'd like to share with our users about you or your company?
SIONYX started in the labs at Harvard University. The original founder is still with us today and very active in driving our technology development.  
11. What's next for your company? Any upcoming new projects or initiatives?
Yes, of course! The Aurora is a great quality product with new performance levels not achieved in the night vision space. SIONYX will always drive advancements in our tech to continuously leap-frog our own products. Also, I mentioned the advisory council in a previous question. This council is now helping us develop purpose-built, mission-specific products. We are not yet ready to share specifics, but 2021 will see a new SIONYX form-factor. Now is the time to get on board with SIONYX!