Union: Louisville officers told to remove riot gear after deadly protest or face suspension
A department spokesperson said they wanted to be cognizant that the "presence of officers in heavy gear can elevate tensions"
---
By Suzie Ziegler
LOUISVILLE, Ky. — Louisville police officers are speaking out after some of them said they were told to leave their riot gear behind while clearing out a protest at a park Sunday night – or face suspension.
Retired Louisville Metropolitan Police Department Officer George Rodman told WAVE 3 News that the order was given to a group of officers despite concerns for the officers' safety.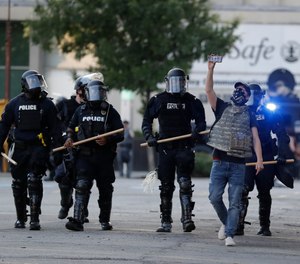 "I don't want any family to go through a tragic event and you can't explain to me why you would put them in that situation," Rodman told reporters. Rodman said their concerns are legitimate after officers told him they saw people walking around the park with guns and vests.
"It was a hostile environment," he said.
After a deadly shooting at the park the previous night, the Louisville mayor ordered the park cleared of tenting supplies and announced that it would be closed off to overnight campers, reported WAVE.
According to Rodman and the Kentucky State Fraternal Order of Police, that's when a group of officers was ordered to put down their riot gear, including their helmets and shields. They were told to do what their commanders described as a "soft approach," said WAVE.
The officers who spoke up and voiced their concerns were threatened to be immediately suspended, FOP officials told WAVE.
According to Kentucky FOP President Bill Purdue, the orders to remove riot gear came after people with long guns were found and removed from nearby rooftop, said WAVE.
LMPD spokesperson Jesse Halladay told reporters that the department wanted officers to enter the park in regular uniforms to be "cognizant that presence of officers in heavy gear can elevate tensions among protesters," she said. She added that a special response team was ready to respond if necessary.
Halladay told WAVE that no officer was sent home or disciplined.

Request product info from top Riot Gear companies
Thank You!