Ga. school where student shot had metal detectors
Superintendent said emergency protocol was followed, but that school district officials would meet Friday to review their response
---
By Kate Brumback
Associated Press
ATLANTA — A middle school where a 14-year-old boy was shot and wounded in the neck by a fellow student had metal detectors, and school officials were investigating how the shooter made it past them.
Police swarmed Price Middle School just south of downtown Thursday afternoon minutes after reports of the shooting. A crowd of anxious parents gathered in the streets, awaiting word on their children, and later many questioned why they were kept in the locked-down school for more than two hours before being dismissed.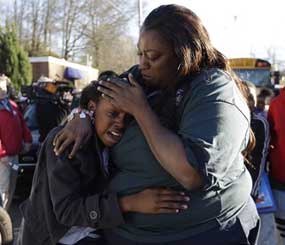 Schools Superintendent Erroll Davis said he sympathized with the parents. He said emergency protocol was followed, but that school district officials would meet Friday to review their response.
Davis said the school of about 400 students does have metal detectors.
"The obvious question is: How did this get past a metal detector?" he asked, referring to the gun. "That's something we do not know yet."
The wounded boy was taken "alert, conscious and breathing" to Grady Memorial Hospital, said police spokesman Carlos Campos. He was released Thursday night, said Grady Health System Spokeswoman Denise Simpson.
A teacher also received minor cuts in the shooting's aftermath, said Atlanta Police Chief George Turner.
An off-duty armed resource officer who was at the school was able to grab the gun away from the suspect, who was taken into custody. Charges against the shooter were pending, Campos said.
Investigators believe the shooting was not random and that something occurred between the two students that may have led to it, Campos said.
Police did not release further details about the suspect or about the resource officer who subdued him, such as whether he is regularly based at the school. Since 20 children and six adults were shot to death at Sandy Hook Elementary School in Connecticut in December, calls for armed officers in every school have resonated across the country.
Hours after the Atlanta shooting, several school buses loaded with children pulled away from the school and stopped in front of a church about a half-block away. Parents tried boarding the buses. Police, who initially tried to stop them, finally relented and screamed at the drivers, "Let them off!"
James Bolton was at work when his sister called saying a teen had been shot at his son's school and was in the crowd as parents began swarming the fleet of buses.
"Move, I see my son, I see mine!" he said, running up to embrace James Bolton Jr. "As long as I got this one back, I'm OK," he said, holding his son's head against his chest as parents nearby frantically searched for their children.
Bolton Jr. said he was in class when the intercom sounded and a school official announced the building was under immediate lockdown.
"They told us we had to be quiet," Bolton told The Associated Press. "They said something went on in the courtyard." Bolton said he was unaware that anyone had been shot until a reporter asked him about it.
Shakita Walker, whose daughter is an eighth-grader at the school, said she received a text from her that said, "Ma somebody's shooting and somebody got shot." Walker, who works at another school, said she jumped in her car and was thinking, "Just hurry up and get there."
Walker said her daughter called to tell her the students were being kept in the gymnasium, but she said she was anxious to see her to make sure she was OK.
The fear and anxiety was palpable in the crowd, as one person yelled, "Does anyone know what happened?"
Mayor Kasim Reed condemned gun violence in a statement shortly after the shooting and said counselors were at the school to meet with students, faculty and family members.
"Gun violence in and around our schools is simply unconscionable and must end," Reed said. "Too many young people are being harmed, and too many families are suffering from unimaginable and unnecessary grief."
Copyright 2013 Associated Press