Getting the most from your body scanner
6 tips for successful results
---
Content provided by Adani Systems 
Your agency fought hard to secure funding to purchase a full body scanner to deter internally concealed contraband from entering your facility.  Now you are tasked with incorporating the device into your portfolio of tools to detect the contraband.
Since there are no tangible standards established in the industry for training or policy, you must rely on the manufacturer's guidance on best practices and protocols.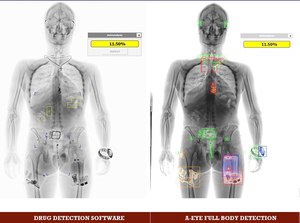 This article details 6 tips to successfully incorporate your new body scanner into your contraband interdiction arsenal:
1.  IMAGE ANALYSIS
Full Body Scanners are imaging systems designed to address the most difficult parts of the anatomy to search for contraband, the torso. Unlike metal detectors or millimeter wave systems in airports, transmission X-ray systems require operator interpretation. These are not pass/fail type checkpoint systems … yet.
The X-ray image presented to the operator should be reviewed from head-to-toe, and back to the head again. A minimum of 15 seconds should be spent reviewing the image while using the scanner's image manipulation tools. Black/white reverse, zoom, and brightness adjustment are all standard features on every body scanner. This begins with a cursory review of the entire image for threats. Once you are confident that no substantial weapons are present, a more thorough review of the image for contraband should be conducted.
By now, the majority of the public is aware of the limitations metal detectors have by only detecting metal objects. Statistically, most contraband will be non-metallic and hidden internally; either swallowed or inserted into a body cavity. For this very reason, special attention should be paid to the stomach and groin regions of the torso. Dual view body scanners are common in the market and offer a 2nd perspective of the torso. These images are usually generated at different angles from the full body image and provide an enhanced probability of identifying contraband. Case in point: a razor blade may be positioned in a difficult orientation in the full body image and may not be detected, however, the torso view captures a completely different and independent image, usually offering the operator the perspective they need to identify the threat.
If your body scanner has this dual view feature, you are well positioned. If it does not, you can turn the person around and conduct a 2nd scan to gain a new perspective. Most scanners will have a Compare Mode to allow for both images to be displayed on the screen at the same time. This method increases the probability of detection but should only be used when needed as it does expose the individual to a double dose of X-ray.
2.  UNIQUE FEATURES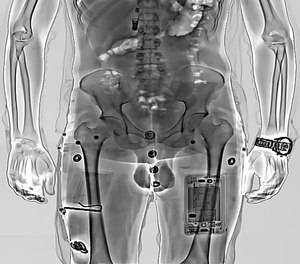 Manufacturers are feverishly working to place more of the burden of analysis on the software, and not the operator. The technology race is on across the entire X-ray imaging world, from security to medical, to interpret how the processing power of artificial intelligence may potentially automate image analysis altogether.
For now, image analysis tools like automatic drug detection software, and A-Eye powered algorithms for the detection of and distinction between objects, are operators' best options. In both cases the software will place a perimeter around suspect items and/or color code the object to identify it as: Electronics = Blue, Clothing/Accessories = Green, Threats = Red, Foreign Objects = Orange.
In the world of X-ray security automatic detection algorithms are nothing new. The aviation market has been utilizing explosive detection software which measures the Z-eff, or approximate known atomic number, for many years with great success. This principle is incorporated into ADANI's DruGuard software that takes into account density, shape, size, and location to predict the presence of narcotics.
Typically, swallowed or inserted balloons or baggies displace human flesh and create a void of less density. Remember, the human body is approximately 70% water and water is dense. In many cases the narcotics show as ovals with a clearly defined hard edge. New edge enhancement software processes the images in a way that creates tremendous contrast, allowing for those edges to be better defined. Some scanners will have an image filter tool which, when selected, will produce and edge tracing effect.
3.  PROTOCOLS & POLICY
An agency with a successful body scanning program is usually eager to share their policy. It is good practice to inquire with other counties or states regarding the specifics of their programs. State and local laws vary greatly across the country, therefore, know your local requirements and be sure to follow recommended guidelines. HPS/ANSI 43.17-2009 is the most comprehensive guideline for the safe use of X-ray body scanners, but it offers little guidance on the protocols and policy and is not a successful screening program.
4.  REPORTING
Measuring the success of your full body scanning program is critical. Most Command Staffers will require usage reports and some will inquire about interception statistics. Now that some software can offer a level of automated detection and detailed reporting, especially as it pertains to mismatches where the computer indicated a positive but the operator recorded a negative, the reporting is extremely valuable. Weekly or monthly comprehensive reports will show trends regarding suspicious activity and when coupled with individual operator reports, you will know which users are producing the best results.
Reports on positive interdictions will aid in training new operators and provide real world examples about how contraband is packaged, and where in the body it is most commonly housed.
5.  ONGOING TRAINING
Manufacturers offer operational training, radiation safety training, and some even offer this in a train-the-trainer platform. It is mandatory that you have a Radiation Safety Officer identified for each piece of radiation producing equipment in operation within your facility. Typically, this RSO is responsible for baggage scanning systems, as well as body scanners, and may even cross over to medical imaging units if your facility possesses such equipment.
The key element of a successful body scanning program is image interpretation training. Examples of the human body in every shape and size are needed to identify a baseline and train operators on the anatomy of people. The location of human organs and the digestive tract are important elements. A well experienced operator can detect contraband quickly when shown examples of how it appears on an X-ray image.
6.  UPGRADES & INTEGRATION
We all know the feeling of purchasing a piece of technology only see the manufacturer release a newer more capable model shortly after purchase; software is progressing faster than hardware. Be sure to ask your manufacturer about upgrade paths and quarterly software updates.
X-ray detector technology is also advancing, and new sensors are providing improved resolution at lower radiation doses. The reduction of noise and higher sensitivity result in the ability to image items of lower density. One example of this is the ability to use enough energy to penetrate a 200lb individual while maintaining sufficient contrast sensitivity to image hair, clothing, and other low-density materials, like tobacco and narcotics.
The next evolution of checkpoint screening systems is full integration into a centralized management system. Companies are working to tie baggage scanners to people scanners to cargo scanners and share that data throughout all sensors on a network.
About the author
Scott Ortolani, a U.S. Navy veteran began his career in the Checkpoint Security Industry as a Field Service Engineer utilizing the aviation electronics technical training he received in the military to install, service and support X-ray imaging equipment for L-3 Communications. Mr. Ortolani left L-3 after 8 years as National Sales Manager with many accomplishments, including selling the first full body millimeter scanner in the U.S. He then accepted a position as Sales Manager for Smiths Detection where he again sold the first X-ray full body scanner in the United States to a county jail in New Mexico. Mr. Ortolani served as VP, Operations for Nova Security, a distributor of checkpoint security technology from multiple manufacturers before accepting the position of Chief Operating Officer for ADANI Systems, Inc. Having spent the last 8 years at ADANI overseeing all operations for Security, Medical, and Analytics devices, Mr. Ortolani has intimate knowledge of X-ray patents, techniques, and specialty imaging technology. His 18 years of experience in checkpoint security provides the background and context for his methodology.

Request information from ADANI Systems
Thank You!