Security screening with a smile: How a new X-ray tool puts a friendly face on bag searches
A new scanner from ADANI Systems offers customization and automatic weapons detection to help reduce the intimidation factor of security checkpoints at schools and large-scale public events
---
Sponsored by ADANI Systems
By Becky Berry Johnson for Police1 BrandFocus
Besides a love for the game, the crowds who live for Friday night football at a local high school have one thing in common with the Sunday crowds at NFL stadiums – they constitute prime targets for a mass casualty event.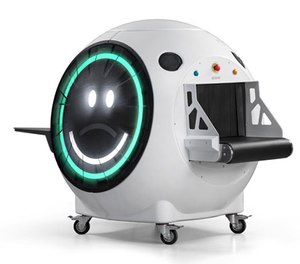 The prevalence of active shooter incidents at these types of events has led to increased security in schools, stadiums and public venues, and standing in long lines to go through a bag check has become common at large-scale events. The process can be intimidating and stressful, but ADANI Systems hopes to remedy that and make screening faster and easier for police and security operators with the BV Stream, its new X-ray scanner and AI automatic weapons detection checkpoint system designed for high-volume screening.
A friendly design to ease the stress of bag checkpoints 
The BV Stream was designed specifically for security screenings at schools and public events, stadiums, concert venues and theme parks, with a focus on removing the intimidation factor involved in the screening process. Unlike the typical boxy X-ray scanner, the BV Stream presents a softer, customizable profile with its dome shape, calling to mind an emoji. That friendly feeling is exactly what BV Stream is meant to evoke. The scanner takes this a step further with how it presents results.
"The BV Stream shows a glowing green smiley face when the bag goes through and no threat is detected," said Scott Ortolani, chief operating officer at ADANI Systems. "But if there is a threat item detected, it turns into a glowing red frowning face."
Users can customize the BV Stream exterior to increase its appeal, from making it look like a baseball or a football, adding a team logo or school colors, or anything else the user can think of.
"It's a non-threatening, friendly-looking X-ray scanner to use in those environments where you don't necessarily want to have people feel like they're going through a checkpoint," Ortolani said.

AI innovation offers a faster, more convenient bag check process
That's only the outer shell. The scanner itself applies the latest technology for faster and more accurate screening. The BV Stream uses artificial intelligence software to identify firearms, knives and grenades or pipe bombs with high probability and a low error rate, while checking more bags in less time.
The BV Stream also offers convenient operation. Mounted on heavy-duty casters, the scanner is mobile and allows for easy storage when not in use.
"A lot of schools will roll these things out in the morning and do their scanning and then roll them back into a closet. Stadiums can use it that way also," said Ortolani. "If it's a public event or a pop-up concert, you could wheel it out for the day of the concert and then put it away."
The scanner also offers remote image monitoring. X-ray images can be sent to a remote workstation via WiFi, where they can be viewed on a computer or tablet. This option provides real-time accountability while reducing the need for in-person operators at every scanner.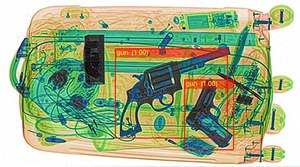 With a conventional X-ray scanner, the operator spends about 80% of their time performing image analysis via a monitor. This leads to operator fatigue and carelessness after just 10 minutes, which results in false alarms and missed threats. The BV Stream's AI component helps eliminate this factor and decrease errors.
Thanks to the AI component, the BV Stream can also perform at twice the scanning speed, with throughput increased to 1,400 bags per hour. A human operator could not keep up with image analysis at this speed. However, the BV Stream's AI software can, and with greater accuracy. In addition, the BV Stream's onboard knowledge base can be updated to increase the number and type of recognizable threats, making the machine "smarter," and this knowledge is transferrable between machines.
The bottom line 
Although bag checks have become a necessary part of life in schools and at large event venues as a mass-casualty prevention measure, they needn't be stressful to the patrons waiting in line, or to the people working to keep these places secure. The BV Stream X-ray scanner from ADANI Systems can help remedy the intimidation factor and help keep lines moving at security checkpoints.

Request information from ADANI Systems
Thank You!