South Dakota Dept. of Corrections gets DruGuard to reduce contraband
The South Dakota Department of Corrections gets a leg up in the fight against illicit items using the ADANI Systems CONPASS DV full body screening system with optionally available DruGuard™
---
Sponsored content by Adani Systems
By Sean Curtis for Police1 BrandFocus
One of the inherent challenges in correctional facilities is keeping contraband from being imported.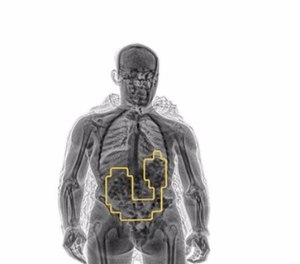 This was the same issue facing the South Dakota Department of Corrections, which recently invested in a new technology to help better screen for contraband.
THE OBSTACLE
Prison systems are looking for better ways to fight contraband, the South Dakota Department of Corrections, said Clifton Fantroy, Director of Security for the South Dakota Department of Corrections.
Fantroy noticed criminals were getting smarter when it came to smuggling contraband, and traditional methods were not as effective as modern solutions. K-9s were being utilized to sniff for drugs, and pat searches were effective at finding contraband hidden in clothing or on the smuggler's person.
Strip searches worked for finding some items concealed in body cavities, but Fantroy admitted this was not 100 percent effective. The stakes were too high to rely on a net of semi-effective answers woven together.
THE SOLUTION
Fantroy sought a new technology to replace older methods of physically searching for contraband.
He found DruGuard™, an add-on software package to body scanners that analyzes shapes within the human body and alerts operators to suspicious areas using color outlines within the body images—drawing attention to possible contraband. Paired with the company's CONPASS DV, the program is capable of detecting wrapped narcotics, precious stones, rare metals, explosives (including liquids), and weapons of all sorts. 
DruGuard is designed to avoid building complacency among operators. The software requires operators to review all images and decide if they suspect drugs are present or not. If the operator selects yes, they are asked to mark the image with one or more green colored boxes, highlighting the area of concern. If the software detects drugs, the computer will place one or more red boxes on the suspected areas. The benefit here is that supervisors can review images for accuracy and in a perfect world the operators' boxes and the computer boxes will overlap.
The other very value design feature is the window of probability. Placing a box on an area of concern is not new in the X-ray world. Doing it on a body scanner is new and doing it in conjunction with providing the operator with a probability of detection as a percentage is unprecedented. DruGuard is a first of its kind detection algorithm which not only alerts where there is an area of concern but also how problematic it may be. DruGuard is also 'smart' software which learns and adapts over time based on operator input. This solution is cutting edge combining the latest in X-ray technology, computer processing, and artificial intelligence.
The powerful technology of body scanners is capable of imaging nearly any foreign object either outside or concealed within, the human body, Fantroy said.
When a new inmate comes into the high-security area, they are scanned with an ADANI CONPASS DV Full Body Screening System. The completed images are then filtered through the DruGuard program, which analyzes them for familiar shapes and contrasts them against normal body signatures. DruGuard displays the image with a yellow high-lighted shape, drawing the attention of the operator.
This does not mean the system cannot be fooled though. The challenge then becomes reviewing those images and being able to discern between normal medical additions (heart stent, bone repair hardware) and actual contraband.
"DruGuard takes the images from the body scanner and reviews them, looking for shapes associated with contraband," Fantroy explained.
THE RESULTS
At the maximum-security unit of the facility, every new inmate gets scanned. They found that DruGuard prevents the importation of the contraband into the prison.
Right away they turned out to be successful, so they decided to purchase additional systems. Over the last year, Fantroy hired the company to install three body scanners equipped with DruGuard.
From this point, persons suspected of smuggling contraband can either give up the items or they will be locked in a "dry cell" until they produce them.
Fantroy said it also helps with investigations. He described how the images from the scanner are combined with surveillance video of contraband recoveries to complete cases. In addition, each scan contains the inmate's name and number.
"The way we look at it, if it's concealed in a body cavity, it's contraband," Fantroy said. "Any found contraband can lead to additional investigation and charges. The evidence is there on the machine."
Fantroy said trainers from ADANI Systems, the parent company of DruGuard, also came out and conducted a six-hour training that included classroom and a hands-on portion where actual scans were conducted. He said employees appreciated the onsite training and received a certification as a result of their time spent.
"This piece of technology gives you everything you're looking for and more," he said. "With good training, people doing the job correctly, utilizing the machine, you don't miss anything."
ROI
When asked about return on investment for the purchase of DruGuard, Fantroy discussed the product's ability to eliminate human error factors.
He said pat searches will reveal things on the surface, but even strip searches will not find things hidden in body cavities. DruGuard helps further eliminate the possible human error of dismissing a potentially dangerous object by pointing out objects and inviting further scrutiny.
Fantroy said drugs and weapons present different dangers in a prison environment and DruGuard prevents their introduction to the environment through those being scanned. In addition, inmates know the technology is there and it "keeps them honest," he said.
Another benefit is the simple reduction of contraband that can pose a threat to staff. Fantroy said this process protects staff from drug-induced violence and use of force issues.
"Safety is our number one concern with our staff and inmates as well," he said. "DruGuard is helping make that safety a reality."
DruGuard helped solved one of the main challenges facing the South Dakota Department of Corrections: stopping contraband from being smuggled into facilities that put both inmates and officers at risk. 

Request information from ADANI Systems
Thank You!