PRESS RELEASE
PatrolEyes releases new DV10 PRO WiFi body camera
---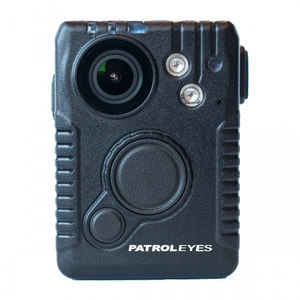 ADA, MI,  PatrolEyes is pleased to announce their newest camera model; the DV10 PRO WiFi. The body camera company has been more committed than ever to provide law enforcement with the most advanced technology, and have exceeded expectations with their newest release. The revolutionary new DV10 PRO shines above the competition in superior video quality and supreme data security.
DV10 PRO records true 1080p HD video, rendered with wide dynamic range technology. Noticeably clear footage is captured with optimized quality at an extended 140 degree field of view. Thousands of high quality images can be snapped by DV10 PRO with it's 32 megapixel camera. The camera has the ability to take still images during recording and burst shot options of up to 30 images at once. DV10 PRO has an extended battery life up to 15 hours record time in 480p and 12 hours in 1080p.
"We've built and designed the DV10 PRO to meet and exceed law enforcement expectations", states Mike Gramza, CEO PatrolEyes. "The camera is our most durable, easy to use, and features live streaming over WiFi. The pre-event recording times that are now so vital are much longer than our competitors clocking in at 2 minutes in the lowest resolution and 1 minute in full HD 1080P."
Every video will be recorded smoothly regardless of motion by the operator, thanks to built in 6 axis stabilization (EIS). As with all PatrolEyes cameras, the DV10 PRO also features one touch recording. While either in standby mode or off, the camera can start recording with the press of one singular button. An automatic sensor ensures quality video is still captured in dark conditions. Low light settings have an impressive range of up to 32 feet and pre-event recording up to 2 minutes is greater than the industry standard. Pre-event recording improves the statistics that more important moments will be captured in advance to the act of pressing the record button.
DV10 PRO offers connectivity options through the built-in WiFi feature. Extend the view of surveillance by securely connecting the camera to a wireless network to stream video live. The device can broadcast real time 720p HD video and audio over most WiFi networks. The smartphone application can enable users to view, start and stop the camera remotely. Along with device control options, the smartphone app also allows for files to be saved directly to camera memory. Built in GPS adds even more valuable information to videos, as it can embed coordinates onto each file. This can provide interactive location coordinates that can be viewed on maps with included software.
Device and data security was a paramount focus for PatrolEyes in the development of DV10 PRO. The camera features AES256 encryption, which is considered among the highest level of data security. In addition, each individual file has password protected date and time stamp with officer ID that can't be tampered with. Data can be securely transferred from the device via included drop-in charging cradle. When transferring data the information is organized into easy to find folders. These folders include files that have their unique device ID, log files and video/photo files. DV10 PRO includes a large 64GB internal memory which is more than adequate space to store data until it is ready for transfer. The heavy duty casing was designed to be extremely durable and has a waterproof rating of IP67 that can hold up to all weather conditions. DV10 PRO and all other PatrolEyes cameras support multiple storage solutions including cloud or local storage solutions, as well as video redaction options.

Request more info from PatrolEyes
Thank You!