Real-time intelligence: How live streaming from the field aids incident command
During an active shooter event or other act of mass violence, getting eyes on the scene is essential for command decisions
---
When it comes to law enforcement incident command plans for responding to acts of mass violence, you probably have your ICS vests, radio frequencies, gear packs and chain of command personnel all set up, but what have you done to get real-time intelligence from the front lines to your command staff?
If you are working on a major incident or wide-spread multiple events, it is impossible for command staff to be on scene at every scene. But even if command staff cannot be on scene, they still can have eyes on through remote video streaming.
Cameras everywhere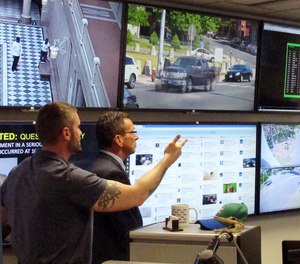 Think about all of the video devices already owned by your agency: body-worn cameras, license plate readers, in-car camera systems, pole-mounted surveillance cameras, speed cameras, night-vision equipment, drones and yes, even smartphones. Some agencies also may be using recoil-rated weapon-mounted cameras.
While some of these devices were designed for after-the-fact archival and viewing, there is no reason that manufacturers could not enable them to stream live video to be used for situational assessment and response purposes.
There are many ways to get the video stream from one or more video sources. Choosing a system that uses IP ("Internet Protocol") to communicate will give you the most flexibility when routing video and other information from each source. To prevent unauthorized access, credentials can be downloaded to specific devices, or additional credentials like a smart card can be used to identify who is accessing each camera. All video needs to be timestamped by an accurate clock to be used for evidence and the clocks for all devices and dispatch should be synchronized. Also ask about industry standard encryption to protect the data from unauthorized access and tampering.
In addition to black and white or color video, most of the options below can be equipped with active and passive night vision, as well as low-light true color video.
Here is how each of these types of cameras can help your command staff:
Do you want to surreptitiously monitor an area, or do you want people to know they are being watched? You can install a system that looks like a camera if you want people to know they are being watched or if it will be in a hidden location, such as looking through an apartment window or down from a water tower. Several companies make covert cameras that look like transformers or utility boxes that can be installed on poles owned by your local phone or power company.
These cameras offer continuous monitoring of an area without putting feet on the street until necessary.
These often are mounted on a utility trailer and are powered by solar or a portable generator. This means that they can be dragged into place on a moment's notice and are perfect for covert surveillance where a police presence or an overt camera installed overnight might attract too much attention. Depending on your needs, you might want to replace a narrow-field speed camera with a more flexible surveillance camera inside the unit. Again, the video can be streamed to command staff.
A license plate reader (LPR) use increasingly sophisticated OCR (optical character reader) technology that can recognize visual images of letters and numbers and enter that information into a database just as a human would use a keyboard to enter the information. Fixed or mobile LPRs can be tuned to hit on specific criteria. By linking to national databases, LPRs can give you a head's up that known troublemakers may be moving into town.
These pint-size vehicles are a great way to get eyes on an out-of-control scene without risking lives. While many are controlled through a wired interface, wirelessly controlled models are available as well. They can climb stairs, position cameras above and around walls with extension arms, and carry additional payloads as required. By adding additional batteries, robots can take on long-distance extended missions.
The current crop of police drones can fly higher and for longer than ever before, putting an undetectable eye in the sky at a moment's notice. While staying out of the way most of the time, a drone can zoom in on the action when necessary and depending on the pilot's capabilities, can fly into enclosed spaces to take a peek around without risking an officer. Some departments let trained pilots carry small drones in the trunks of their patrol vehicles while the bigger units are kept at a depot.
While in-car video normally is used during traffic stops and is recorded rather than streamed, the judicious placement of multiple patrol cars can provide additional eyes on the scene if the video can be streamed. If you have a mobile terminal in the car, the camera might be able to ride on the existing data steam back to HQ and the camera can be aimed by displaying the video on terminal screen.
When it really hits the fan, streaming bodycam and weapons-mounted cameras can give command staff a close-in picture of what their officers are facing and allow them to make advance/fall back and shoot/no-shoot decisions even when not on site.
If you decide to implement weapon-mounted cameras, be sure that the device is recoil-rated for whatever loads you are using. You also need to ensure that that camera truly shows what the shooter sees without getting in the way. There are cameras that mount to the rail of a handgun or split a rifle scope image in two, guaranteeing that the shooter and the camera see identical images. The video also serves as evidence of what happened should an officer need to neutralize a threat.
Officers and other staff using smartphones and the proper software can stream video as well. The video stream should be timestamped and encrypted so that it can be used as evidence if necessary, but this might not always be practical. In a pinch a smartphone can be taped to a stick to be used as a periscope to peek over walls or around corners.
Video Wall
Through the use of a "video wall," which shows the output from multiple cameras, command staff may be able to make better decisions than their officers who are in the thick of it. For example, pole-mount or drone video might show a threat that your officers haven't yet noticed because they are too close to the action.
Next steps
There are many technologies available to you. So many in fact that you may have trouble deciding which ones to implement and the order in which to implement them. Start by prioritizing the missions that your agency is expected to perform and then slotting in the most appropriate technologies that you already have, followed by planning and budgeting for the technologies that you don't have. Look for those that offer the biggest benefit-cost ratios. That is, the cost of a less-expensive technology may not offer many benefits to your agency, while the time and energy spent justifying a larger cost item could very well return that expenditure many times over in terms of staff hours or lives saved.

Request product info from top Police Pole Cameras companies
Thank You!