How this police department is preparing for a wireless future
Replacing aging in-car technology provided a bonus opportunity for Seattle Police Department to upgrade its wireless communications with advanced in-vehicle connectivity
---
Sponsored by Cradlepoint
By Laura Neitzel, Police1 BrandFocus Staff
Much of police work has migrated from the station to the cruiser, and all the rapidly evolving mobile technologies and applications rely on LTE cellular networks to provide consistent access to crucial tools and data. Technologies like in-car camera systems, body cameras, computer-aided dispatch, records management systems, mobile data terminals and GPS mapping all require wireless connectivity.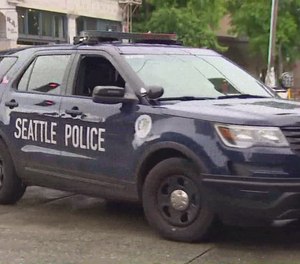 "Those are critical pieces of technology infrastructure in a patrol vehicle that everyone relies on – the officers, the dispatcher and command staff," said Nick Zajchowski, strategic advisor for the Seattle Police Department.
When Seattle PD's in-car video systems and mobile data terminals were nearing the end of their functional lives, Zajchowski took advantage of the opportunity to not only replace some of the aging devices, but also to install routers that would ensure robust, always-on connectivity well into the future.
"A router is not the sexiest piece of technology, but it's becoming more and more important as we start to add all these pieces of technology that require wireless connectivity," he said. "These routers and the modems in them also support our computer-aided dispatch and our records management system, and they provide GPS data to those systems as well."
Zajchowski and his team turned to Cradlepoint to provide NetCloud Service, including wireless in-vehicle routers,  for connectivity to a fleet of 350 vehicles. NetCloud Manager allows Seattle PD's information technology team to configure, update and troubleshoot connectivity more efficiently and to optimize cellular data usage. These solutions for cellular connectivity (affectionately referred to by customers as simply "the Cradlepoint") are helping Seattle PD prepare for a wireless future where in-vehicle devices play nicely together, officer connectivity is constant, and downtime for upgrades or problems is virtually non-existent.
Supporting in-car video
One of the key reasons Seattle PD chose Cradlepoint routers is easy integration with their new in-car camera system. Acquiring a more complex in-car camera system created the need for Seattle PD to also establish a beefed-up in-car wireless network that could handle massive amounts of video data for downloading, viewing and sharing.
Especially in high-profile or controversial incidents like an officer-involved shooting, it is critically important that investigators, command staff and other stakeholders be able to review in-car and body-worn camera video as soon as possible to make an accurate report. Cradlepoint gives officers the uninterrupted connectivity needed to upload video to cloud storage in the field instead of having to return to the station.
Cradlepoint can also support more sophisticated video features like video recall. In the past, that would require the IT department to go into the video system to retrieve, adding to the time and staffing burden. Now, officers can upload the video to cloud storage while still on patrol.
"The sooner that investigators, command staff and other stakeholders can review the footage, the better," said Zajchowski, "because we need to respond quickly and accurately about these incidents. That's what the public is demanding."
Separating traffic according to policy, need
Cradlepoint endpoints included in the NetCloud Service ensure that officers can always access the internet and critical cloud and data center applications from anywhere using advanced cellular — quickly, reliably and securely. NetCloud Service also makes it easy to configure networks that can route traffic based on bandwidth usage, application content, cellular data usage or a preferred link to maximize availability and uptime.
Cradlepoint routers include a mechanism to isolate data that needs to be shared via the internet from critical applications and data that require a higher level of security and should remain in a closed network. In Seattle, network traffic is split so that videos go directly into Seattle PD's Verizon LTE wireless network and onto the internet cloud storage. Internal traffic is routed through the VPN, which is more secure, says Zajchowski, and then that goes from Verizon back to the core network at the city level through a backhaul, or intermediate link.
The ability to separate traffic helps maintain always-on connectivity while also ensuring that mission-critical data remains protected and CJIS Security Policy-compliant.
Supporting dual networks
Another feature of Cradlepoint technology that has benefitted Zajchowski and his team is the ability to set up the WiFi's local area network.
"That was something that we really needed in order to support the in-car video system, which is heavily wireless," he said.
When in the field, Seattle PD officers maintain wireless connectivity to critical applications using a SIM card on the Verizon LTE network. When in range of the station, the Cradlepoint automatically switches to the wireless access point in the precinct to connect to the department's private secure network. The Cradlepoint can also be configured to automatically connect to the endpoint with the greatest signal strength, whether the wireless connection or the WAN at the precinct.
Making it easy to configure, update and maintain
The decision to go with Cradlepoint instead of new offerings from their previous vendor was an easy one, says Zajchowski.
"Cradlepoint was just more robust and had more functionality and would just be a lot easier to manage and configure," he said.
Wireless technician Remigio Isla appreciates how the Cradlepoint solution integrated smoothly with the in-car video system and is also easier to configure, troubleshoot and push out updates remotely.
"When I do have to support any of these new vehicles with an installation, it's like night and day," he said. "It's so much faster."
Working with Cradlepoint and other providers like Verizon has allowed Seattle PD to maximize efficiency and security and maintain connectivity while at the same time offloading video that is used for accountability and evidentiary purposes.
"It's really nice to have a piece of technology that makes that wireless connectivity possible and easy and efficient, because if that becomes a problem, it's not just downtime in terms of support," said Zajchowski. "If you lose that connectivity in the field, it can become a real safety issue for officers."
Visit Cradlepoint for more information.
Read next: How Nevada Highway Patrol stays connected throughout the state
Request information from Cradlepoint
Thank You!