Expand the capabilities of your agency's existing RMS and devices
TBL Systems' mobile platform helps agencies of any size modernize their operations and scale to their needs
---
Sponsored by TBL Systems, Inc.
By Ron LaPedis for Police1 BrandFocus
Watch almost any crime drama on TV and you will see a beat cop flipping through his citation book to write a ticket. And while one CSI staffer is taking photos, her partner is taking notes. Now, look at your go bag or your desk. I'll bet you are doing the same as the actors are. But while they get to go back to their dressing rooms at the end of the day for a cold one, you need to enter all the information you collected into your agency's record management system (RMS) and link it with any other related information. Oh, joy.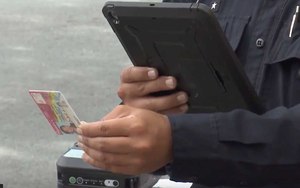 Chances are high that you have a laptop in your car, a smartphone attached to your hip, and most certainly know how to use a tablet device. Why not use them to help make your job easier and your reporting more accurate? A handful of companies think like you do and have built systems which do just that.
Online reporting systems leverage the technology that you already have with you to create and track case reports, crash reports, citations, field interviews and much more. Because the software running on your local device is linked to local and national databases, entering in a bit of information, such as a driver's license, can trigger the system to fill in the remainder – or flag you that there is an outstanding warrant. This lets you concentrate on what is important and not busy work. I mean, that's what computers are supposed to do for us, right?
Crime Scenes and Evidence
While smartphone cameras may never replace professional equipment for detailed crime scene photography, they can be used to help collate collected evidence with the report – and they have a built-in GPS to track location. As a detective is walking the case with a smartphone or tablet, he or she can dictate notes which can be stored as audio or converted to text; and add photos, videos, audio recordings, maps and sketches to the case. When the site photographer's work is done, you can add those images to the case as well.
If you have ever read your notes or looked at a photo a couple of days later and wondered what you were thinking, you'll know what an aid a mobile platform that connects to your RMS is to solving crimes more quickly. And since everyone's information is securely stored in the same RMS, it is easy to sort, search and cross reference, possibly finding that needle in the haystack. Supervisors and command staff also benefit since they have immediate access to all case information at their fingertips rather than having to go from desk to desk to ask for status and read notebooks.
Whatever system you choose also should be able to track impounds, personal property, and other physical evidence and link it to the digital record, all while following established chain of evidence principles.
Modernizing IT
TBL Systems, formerly Thin Blue Line Reporting, not only has implemented this automated approach to paper-based citations, dispatch updates and reporting, their solution is designed so that it won't send your IT staff into overload. Their case reporting and records management system takes a modular, app-enabled approach that leverages your existing devices. Because it's cloud-based, local IT staff only have to add and remove users and set individual or role-based access. Everything else, including software updates, is automatic.
Information entered into the CJIS-compliant mobile application makes its way into TBL's proprietary government cloud within seconds, ready to be accessed by other authorized users using multi-factor authentication for enhanced security. If you're in a no-coverage area, the data will be stored and transmitted later.
Because the system is modular, your agency can customize modules to its needs and scale resources up or down, as needed. Here are some of the additional, powerful modules that can integrate seamlessly with your existing RMS and operate on your current devices.
Back to the needle
You may have heard the term "Big Data" or "Data Lake." Both have similar uses: to let you comb through the information in your RMS to look for patterns which allow you to analyze previous cases to look for hotspots, compare MO's and predict future crimes. Since information is entered in real-time, the appropriate software can be used to notify command staff that something might be brewing so that they can stage or dispatch before events go south.
TBL's advanced analytics module does just this by utilizing the latest modeling techniques to find meaningful and actionable patterns in officers' and detectives' citation data and investigation notes. Reports include pinpoint-accurate location information and intelligence immediately as officers generate case reports, citations, field interviews and other reports on the front line.
Dispatch
Wouldn't it be nice if your dispatchers could be given magical powers to know what is happening in the field and where all of your agency staff are in real time?
TBL offers a cloud-based dispatch system for small and mid-size agencies (50-500 users) which links to multiple reporting systems out of the box, including their own. The same-day-go-live system features real-time staff location which uses the GPS coordinates of the mobile device(s) used by each officer/user. And if an officer needs to know what another is doing, or what is happening at a specific location, that information is available at the dispatcher's fingertips.
Summary
Records management systems are invaluable for collecting and tracking all of the information which comes into your agency. Entering data once on a mobile device rather than transcribing it lowers the workload of everyone involved. Real-time is better than lag-time and data reporting and analytics can help you get ahead of the game.
Secure cloud-based systems with multi-factor authentication are easier for your IT staff (if you even have them) to implement and maintain. Modular systems which let you buy just the functionality you need and which can link to external systems in a real-time, seamless fashion are better than "fits most" systems which may offer more than you need and can create a data island which prevents your agency from using other software or systems to add additional functionality.

Request information from TBL Systems, Inc.
Thank You!