Spotlight: DragonEye Technology specializes in speed enforcement
The company aims to make Lidar units compact enough for field use, but accurate enough for traffic court
---
Company Name: DragonEye Technology LLC
Headquarters: Norcross, Georgia
Signature Product: DragonEye Speed Lidar
Website: www.dragoneyetech.com
Back in 1989, Scott Patterson, President and CEO of DragonEye Technology, started his first company to develop a special dental laser for painlessly drilling teeth. Soon he was approached by a large radar manufacturer about developing a police laser speed gun. Patterson took this on as a fun side project but didn't think it would amount to anything that could be purchased by police departments. The dental laser flopped, but the police laser took off after much hard work.
Where did your company name originate from?
It was a combination of a few things. Knowing the company would be focused upon speed measurement and photo speed measurement, I was looking for a name that would convey accurate and precise vision at long distances. At the time, my children happened to be enamored by the dragon Saphira in the movie Eragon. At some point the coin dropped and I put the two together - DragonEye was born.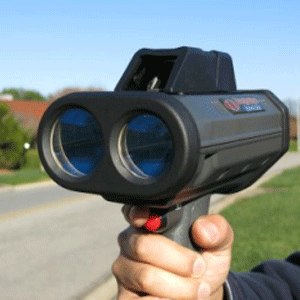 What was the inspiration behind starting your company? 
I have been involved with law enforcement laser speed measurement since its inception in the early 1990s. Having come originally from an engineering background for military laser rangefinders and head-up display sighting systems, I have always been excited about applying new and cutting edge technology to the law enforcement market to improve safety and efficiency. Law enforcement officers have a very tough job running speed enforcement on busy roads and highways. I have personally been out there testing product in the oppressive heat and finger-numbing cold; it can be an exhausting day. It is fulfilling to find ways through technology to make their job a little easier. DragonEye is the latest incarnation of that inspiration.
Why do you believe your products are essential to the police community?
Traffic officers are tasked with keeping the roads safe for the traveling public. It is a bit of a thankless job - we all want to arrive at our destination safely and we detest the reckless speeder tailgating us or zig-zagging through traffic. However, we are not very happy when it is our turn to get a ticket. These traffic officers deserve high quality, reliable equipment with speed readings that will hold up in court. Road safety would deteriorate rapidly if officers didn't have reliable speed measurement products to make traffic citations stick. In addition, traffic stops result in a surprisingly large number of arrests on more serious charges. These charges may only stick if the radar or laser used in the stop is reliable and supportable in court.
What has been the biggest challenge your company has faced?
I have always tried to focus on providing accurate and reliable Lidar speed measurement equipment; then provide fast service and strong court support when required.  We are doing that with the DragonEye products. The hardest part for me has been the marketing to reach the thousands of police departments across the country (and the world). As I mentioned, I have previously owned companies manufacturing speed Lidars since the 1990s, and many police jurisdictions have probably used products built by my team. But DragonEye is a new name to most police departments so we have to re-introduce ourselves as DragonEye and earn their trust, which takes some time.
What makes your company unique?
We have uniquely focused on the law enforcement Lidar speed measurement market. We are a smaller company, but this specific focus allows us to concentrate our engineering and production team on providing a quality, leading edge product, combined with personalized and fast service.
What do your customers like best about you and your products?
I think I can best sum this up using a quotation from a recent magazine review about our Lidar product: "Intuitive, simple controls; quick handling; sophisticated signal processing, class-leading range; an unusually well-developed piece of gear."  I also think the service side of the police business is just as important as the product itself. I hope our customers feel that our support after the sale is just as good as or better than our products.
What is the most rewarding part of serving the first responder community?
For me, it has been the opportunity to get to know some of the traffic officers, captains and chiefs personally. Through the years I have gained a much better understanding of the demands and responsibilities of their work. Also, I have grown to love that dry, deadpan sense of humor so many officers have developed having to dealing with such a wide cross section of the public on a daily basis.
What's next for your company? Any upcoming projects or initiatives?
Keep an eye out for our officer-operated DragonCam photo enforcement systems. These are full-up photo enforcement tools that can snap license plate legible images at long ranges and transmit the violations to the back office at 3G speeds as they occur. While photo speed enforcement has been around for a long time, I believe this device can change the way speed limits on larger highways and interstate roadways are enforced. Because it uses an IACP-approved laser and each violation is visually observed and immediately approved or rejected by the traffic officer, I believe some jurisdictions that have shied away from photo enforcement may begin to reconsider.
For more information, visit www.dragoneyetech.com.