Add LPR to make the most of your existing cameras
Your agency may be eligible for two free trial software licenses to add LPR and vehicle recognition capabilities to existing IP cameras in your jurisdiction
---
Sponsored by Rekor Systems
By James Careless for Police1 BrandFocus
Many law enforcement agencies have installed internet-connected video cameras to monitor traffic, detect license plates and observe high-crime areas in their jurisdictions. But, the lingering question for these agencies is how to make these cameras do more to solve crimes and enhance public safety when budgets are already tight and threatened further by COVID-19 and the "defund the police" movement.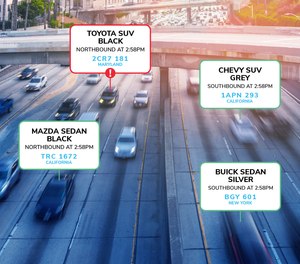 Rekor Systems is offering a useful answer with its AI-enabled Scout license plate recognition software. As long as an agency's existing traffic/security IP cameras are connected to the internet, Rekor Scout software can upgrade them into vehicle recognition solutions that support lead generation and real-time alerting of license plates of interest.
To demonstrate its value to investigations and public safety, the company is providing two free trial licenses to law enforcement agencies in the United States and Canada.
Expand your agency's capabilities
"In addition to capturing license plates, our Scout software also identifies vehicle type, make and color in real time," said Charles Degliomini, Rekor Systems' executive VP of government relations and corporate communications. "During the 60-day free trial period, you can manually enter plates and vehicle information, upload existing hotlists and conduct forensic searches for free without changing or losing your cameras' underlying functionality. It's a no-risk, no-hassle way to expand your agency's situational awareness and enforcement capabilities."
Rekor Scout software can turn any internet-connected IP camera into an intelligent LPR tool that can perform many functions for police departments without requiring the purchase of any additional hardware or any major internal software changes.
After the trial period is complete, participating agencies can subscribe to the Rekor Scout LPR service for as low as $49/month and purchase more software licenses as needed. Rekor also sells and installs both fixed and mobile LPR cameras to help agencies can extend LPR coverage throughout their jurisdictions.
With Rekor Scout enhancing their cameras, agencies can manage all of their LPR feeds from a single, easy-to-use web interface. As the cameras capture license plate data, Scout displays these captures in a searchable database that includes vehicle make, model and color. This information is stored and readily available for immediate or future recall.
Catch more criminals
The AI-powered Scout software can accurately identify license plates issued by all U.S. states, plus those issued by Canada and Mexico. It can do all of this across multiple full-motion video streams in real time, ensuring that users get complete, actionable information as soon as they need it.
"Where Scout really stands out is in those cases where eyewitnesses miss the vehicle's complete license plate but did notice the make, model and color of the car, which is very common," said Degliomini. "With Scout, police can use this data to review camera feeds in areas where crimes have just been committed and get answers quickly."
The real-time results from Scout enable officers to find and intercept suspect vehicles, sometimes even as soon they leave a crime scene or jurisdiction. The enhancement to officer and public safety is substantial, adds Degliomini, as is the increase in cases cleared and criminals charged.
With the free Scout software trial, Rekor Systems is offering law enforcement agencies a no-cost opportunity to take its LPR solution for a test drive. The registration process takes only a few minutes, and the Scout software can be installed on-premises or accessed via the cloud in 20 minutes or less.
For more information, visit Rekor online.
NEXT: Rekor's vehicle recognition solutions selected by Tennessee police department to increase public safety after successful test caught wanted fugitive

Request information from Rekor
Thank You!