Busted! 6 common myths about automatic license plate readers and vehicle detection
Automatic license plate readers can be a powerful tool for law enforcement agencies, but it's important to know what you should expect from this technology (hint – it's more than you think)
---
Sponsored by PIPS Technology
By Police1 BrandFocus Staff
One of the most useful tools in the law enforcement toolkit is the automatic license plate reader. Whether mounted on a patrol vehicle or attached to a pole or other fixed surface, ALPR cameras can scan passing license plates and cross-reference their registration numbers against stolen vehicle warrants, suspect watchlists or active Amber Alerts and send plate matches to officers to aid quick apprehensions.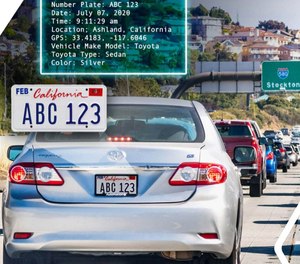 Over the years, a number of myths have arisen about ALPR technology, many of them excuses for inadequate performance by lower-quality units. With the help of the experts at PIPS Technology, a provider of high-performance ALPR for more than 20 years, we bust half a dozen of the most common misconceptions about license plate readers in law enforcement.
MYTH 1: Detection accuracy below 90% is acceptable
Many users assume that a license plate detection accuracy level around 90% is good enough. Not so, says Luke Normington, managing director of PIPS Technology.  
"The license plate detection accuracy rate should be 98% or higher," said Normington. "The plates that you miss could be on vehicles driven by wanted criminals, child abductors or even Public Enemy No. 1. This is why PIPS is always enhancing our accuracy rate through our purpose-built cameras and optical character recognition algorithms, with the goal of getting as close to 100% as we can."
MYTH 2: All plates are created equal
A second myth is that all license plates are created equal, which means a bargain one-size-fits-all ALPR solution with third-party OCR is good enough for any jurisdiction.
Unfortunately, this isn't true at all: Different colors and materials present different challenges, and some combinations are harder to read than others. This is why law enforcement agencies need an ALPR system designed to accurately read even the most difficult-to-read plate designs, including temporary paper plates.
"Until recently, Massachusetts' license plates didn't use any carbon black in their letters and numbers, which made them hard to read," said Peter Crary, PIPS head of research and development. "This is precisely why PIPS has devised algorithms specific to Massachusetts – and all other regions – to ensure plate reading accuracy in all areas. To get the highest performance from ALPR, law enforcement agencies need this level of customization in their ALPR systems."
MYTH 3: Sharing data means you lose control and custody of your data
Sharing license plate data with other law enforcement agencies is a good idea. But some ALPR providers take ownership of that data and sell it data to third parties, which can wreak havoc with the chain of custody.
To keep this from happening, choose an ALPR vendor that enables your agency to share data while retaining ownership. The vendor should also offer a data management system that provides a clear chain of evidence throughout, because a good defense attorney will want to know everything about that data, says Crary – and there are ways to reap the benefits of sharing data with your neighbors without losing control of your data.
"The interoperability between neighboring systems can absolutely be delivered, but in a controlled, secure way," said Normington. "It has to be under control, and it has to be auditable. Our backend software solutions are designed to allow agencies to share data with each other, but they always maintain the ownership and control of that data and who they share it with."
MYTH 4: Cloud processing of video images is best
The cloud is a great resource for data management, but it isn't the best choice for all situations. When it comes to processing mobile ALPR hits, for example, sending data to and from the cloud can eat up precious seconds, particularly if the signal is traveling over commercial cellular networks, which can create connection issues, latency problems and delays in issuing alerts.
Look for a truly mobile ALPR system that uses an "edge capture" approach, where the images are processed by the vehicle's own onboard ALPR system to provide alerts in milliseconds.
"Forty seconds is a lifetime when the plate you're reading is on a car passing you at 50 mph," said Crary. "PIPS' Edge Capture systems does the job in the blink of an eye. This gives patrol car officers enough time to turn around and intercept a flagged vehicle, even at high speeds."
MYTH 5: ALPR systems and hardware aren't built to last
Police need tough stuff, and consumer-grade hardware isn't built to last. PIPS Technology's professional ALPR systems are designed to be rugged and reliable, which is why many PIPS customers have reported successfully using their ALPR systems for up to a decade.
"This is the difference between buying purpose-built industrial grade ALPR systems that lasts versus cobbled-together consumer-grade equipment that doesn't," Normington said. "We have customers who tell us they've had patrol vehicles that have been attacked and burned, yet they take the camera off the top, give it a polish, and it starts working again. From a hardware perspective, we have been very proud the longevity and robustness of the product."
MYTH 6: Anybody can make a successful ALPR system
Many companies are adding ALPR to their product offerings, while others are dedicated solely to refining the technology. Just as it requires an automotive builder who is serious about performance, style and safety to build a great car, law enforcement agencies need to find an ALPR vendor with a proven track record to get a reliable, durable ALPR system.
"This is all we do. We read and curate license plate transactions," said Crary, "so you can apply the technology in a way that really starts to drive advantages."
PIPS Technology has amassed over two decades' worth of data, expertise and success in the ALPR field. The company is investing in artificial intelligence to enhance its ALPR capabilities – but AI is not a magic bullet, caution Crary and Normington.
"If you haven't got the foundational experience in place, just being able to do AI doesn't necessarily help you unlock all the secrets," said Normington.
The right choice for the job
While LPR has been available since the early 1980s, the technology has advanced significantly in the last decade, and it's important to know what you should expect when investing in these tools.
The six myths busted above prove a simple point: To get the most accurate, reliable and durable automatic license plate readers and vehicle detection systems available, law enforcement agencies need to select a vendor with a history of dedication to the mission and providing cutting-edge technology to do the job right.
For more information visit PIPS Technology.
READ NEXT: How to buy license plate readers (eBook)

Request information from Neology
Thank You!