New ALPR system puts dent in Ohio city's crime
Bowling Green police find quick success with cameras and software from Rekor
---
Sponsored by Rekor
By John Erich, Police1 BrandFocus Staff
At Bowling Green State University in Ohio, someone was stealing catalytic converters. The school has plenty of cameras, and they captured images of a suspect's Jeep, but not a clear license plate number. University police knew only that on the night they noted the vehicle, the thief had arrived on campus around 2 a.m. and left some time later.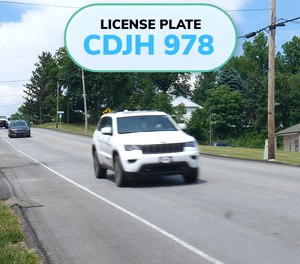 For the Bowling Green Police Division (BGPD), which serves the town of 30,000 that surrounds the university, that was enough. Bowling Green had recently added 20 Rekor Edge Max automated license plate reader (ALPR) cameras at the town's major entry and exit points. BGPD Lt. Adam Skaff identified the nearest one to the university's entrance and reviewed the traffic that had passed it in the period before the suspect vehicle reached the school. He found a Jeep that matched the campus PD's description – the right color, the right model, the right taillights. He also found it exiting campus at about the right time.
Skaff passed that information on to his university colleagues, and they used it to obtain a warrant and ultimately make an arrest, solving the thefts.
That's one way the Rekor system "has been a game-changer," said Skaff. "We've used it from everything from traffic crash investigations to thefts to suspicious individuals, trespassing and assaults in our downtown area. We've had things like stolen vehicles and stolen license plates. We recovered a missing person. It's been huge for us in a whole variety of instances."
WHAT DISTINGUISHES AN ALPR SYSTEM?
Automatic license plate readers are becoming a staple of modern policing. But while it had numerous surveillance cameras around its downtown, Bowling Green didn't have an ALPR system until 2022.
The police department was upgrading its radios when a vendor pitched its plate-reading system and offered a pair of cameras for a test run. That limited first effort brought such good results, leaders decided on a wider implementation. For a comprehensive view of options, they reached out to more than half a dozen companies and spent time comparing hardware, software and function.
Rekor's solution offered some aspects others lacked. Its high-definition Edge Max cameras, designed for highways and high-speed primary roads, mount on poles or surfaces and capture full-frame, full-color video. They can read the entirety of plates from the U.S., Canada and Mexico – including vanity, paper and temporary tags – across multiple lanes at speeds up to 120 mph. Data is processed within each 4G LTE, ethernet-ready camera.
Its supporting Scout software lets users search data across a wide range of parameters from specific to general and get real-time alerts and customizable hotlists. For Skaff, the power and precision of its search function particularly stood out.
"Every one of the systems out there allows you to say, 'Show me a blue Chevy SUV,'" he said. "What the Rekor system allows you to say is, 'Show me everything you thought was a blue Chevy Equinox' – not just a Chevy SUV, but anything where a reporting person may say, 'I know it was an Equinox, and I think it was blue.' Essentially the artificial intelligence is looking at every car and asking, 'What do I think that car is?'"
What the Rekor system captures isn't just static plate scans but a short 5- to 10-second video clip around each vehicle that passes a camera. That provides more visibility and context for officers than a still image – they can get better views of aspects like how many people are inside, driver behavior while passing or within lanes, and possible turns off major thoroughfares.
"It lets us tell our officers, 'This car just passed this McDonald's and turned right, so it's probably headed in this direction or that direction,'" said Skaff. "That makes it easier for us to apprehend the vehicle."
Using the Scout software, departments can search historical data for a vehicle's past activity and create real-time alerts based not only on plate numbers but on characteristics like make, model, color and direction of travel – even body damage. Results are displayed through a web-based interface accessible anywhere. The artificial intelligence that powers it was developed over years and is easily adapted to new needs, as when Rekor quickly adjusted to recognize a hard-to-read new plate in Tennessee.
"Rekor really stood out as far as the amount of information we could collect and retain," said Skaff, who spearheaded BGPD's evaluation and purchasing process. "And the video review feature I thought really separated them."
PARTIAL DESCRIPTIONS TO POTENTIAL MATCHES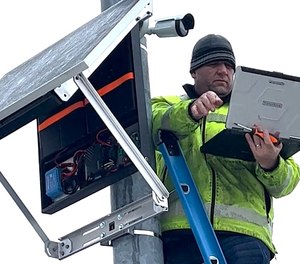 As they integrate the Rekor system across their daily duties, Bowling Green officers are using it to help crack all kinds of crimes – and do it much faster.
Downtown Bowling Green, as an example, has lots of bars and its fair share of antisocial behavior – fights, shootings, etc. For officers, that once meant spending hours scanning low-quality video (if it existed) around the event's time and location, hoping to find a suspect vehicle that matched witness descriptions and decipher at least part of its plate number.
Now, with only a rough idea of a vehicle's make/model and time and direction of travel, they can anticipate it reaching Edge Max-covered areas and tap the Scout software to narrow partial descriptions into potential matches. Once a suspect vehicle is identified, they have its full plate number and information about where else it's been or goes.
"For the detective investigating the assault or the shooting, it's going to save time and effort," said Skaff. "It will provide them more evidence to talk to witnesses, talk to victims and talk to suspects. So it's a huge time-saver, not just for major incidents but also for the less-serious quality-of-life issues people care about."
The Scout software can work with other kinds of cameras, but the 60 in downtown Bowling Green were installed three years ago, before consideration of an ALPR system, and aren't necessarily at the right height and angle or of good enough quality to maximize identification. To remedy this the city is working to add 20 more IP surveillance cameras in that area and link them via software to the ALPR system.
A secondary benefit of interest to potential funders may lie in traffic data. The Edge Max system can yield major insights into density, flow patterns and problem points for those charged with ensuring smooth, safe travel around cities. Rekor also has dedicated traffic analytics and roadway monitoring platforms for these purposes.
"That's one reason we put our system at the major entry and exit points for the city," said Skaff. "It will let us relay to the city that, 'Hey, this intersection is seeing X number of cars per day. It's busiest on these days at these times.' So, in the future, if they're going to do roadwork, they can choose a day and time with the least amount of traffic."
PRIVACY REMAINS PROTECTED
The department has also been open about the cameras with its community and how it will protect the privacy of law-abiding citizens who may have concerns about their information being retained. Rekor uses a popular privacy algorithm with its data storage that preserves vehicle uniqueness but prevents unneeded discovery of personal identifiable information. Users can determine how long it's kept before deletion.
Skaff and his fellow officers are also sure to talk up the system's numerous early successes.
 "When the news calls, we'll explain how this assisted us in recovering a stolen vehicle or firearms or in investigations and stuff like that," he said. "We explain this isn't going to be used to track normal, everyday citizens. We're not watching you go get coffee in the morning. We use this in an investigative nature. So I think we've built some positive buzz, and the people who have actually taken the time to look into it have realized the benefits. It's been a value add in a lot of areas."
For more information, visit Rekor.
READ NEXT: How Rekor Systems used intelligent AI to adapt to new Tennessee license plates

Request information from Rekor
Thank You!