PRESS RELEASE
MPH Industries introduces BEE III with new K-band Antenna
---
The Most Compact and Economical Radar Available
OWENSBORO, Ky. - MPH Industries introduces the new BEE III – a directional speed radar by which all others are measured – is now available in a more economical K-band version. The BEE III is the most compact radar available, having the smallest detachable display for more mounting options and better visibility with larger, easy-to-read LED displays. The slim K-band patch antennas also take up less horizontal space in the vehicle.
Incorporating the same great features and lower price, the BEE III K-band directional radar continues to provide automatic same direction mode (ASD), directional stationary and fastest target modes with excellent target range and the lowest repair rates in the industry. Responding to our customer's needs, the new K-band version was specifically designed at a more economical price, allowing agencies the flexibility to meet budgetary constraints while still providing their officers with the proven reliability and accuracy of the BEE III.
BEE III Special Features
• BEE III is the most compact radar available. It has the smallest detachable display, while retaining large multi- colored speed windows. The display and antenna offers more mounting options in patrol vehicles.
• Patented Automatic Same Direction (ASD) technology gives you the versatility of same direction operation without a confusing faster/slower button. The BEE III decides whether the target is approaching or receding with reliable accuracy.
• In stationary mode, ASD allows you to select a direction and only measure the targets travelling in that direction, while completely ignoring the traffic in the other direction. The radar can also measure both directions and indicate the direction the target is travelling.
• Selectable City and Highway modes help minimize shadowing and combining.
• The high-power wireless remote control eliminates a cable while ensuring that the operator doesn't have to point the remote control at the radar. A wired version is optional.
• The reliability and accuracy of the BEE III are guaranteed by MPH Industries, serving law enforcement with products like the Python and K-55 since 1975.
Some additional benefits include the automatic same direction (ASD) mode's patented technology which eliminates the faster/slower button, freeing up both hands for driving. The BEE III measures traffic direction with extreme accuracy which allows officers to catch a speeder moving in a chosen direction even if there is a closer vehicle moving in the other direction. In addition, the BEE III's fastest vehicle technology ensures that violators can no longer hide in a semi's shadow. The BEE III will detect them.
Its convenient detachable display unit is small enough to mount anywhere in the vehicle, and the unit's speed display windows are easily distinguished by size, location and color.
On the BEE III remote control, each major function has a uniquely contoured switch, enabling operation without looking at the remote. The radar blends into the vehicle's interior until you're ready to use it. All black, small antenna housings make covert operation easy. Reliable and maintenance-free, BEE III affords the lowest repair rates in the industry. Feel confident with the BEE III as it consistently wins side-by-side shoot outs with the competition.
About MPH Industries
MPH Industries MPH Industries, Inc. is one of the leading manufacturers of speed measurement systems. With a product line historically rooted in law enforcement, MPH has grown to be a supplier of quality, innovative products with an outstanding tradition of customer service. MPH's product lines have migrated beyond law enforcement into other market segments, such as fire departments, emergency responders, departments of transportation, professional sports, and the railroad industry.
Founded in 1976, MPH was one of the first companies to supply traffic radar systems to law enforcement. Within a few short years, MPH had grown to be the largest manufacturer of radar equipment, supplying law enforcement agencies with more than 4,000 radars per year.
In 1988, MPH was purchased by MPD, Inc. and was moved to its current location in Owensboro, Kentucky. MPH's knowledge of law enforcement's needs, coupled with MPD's technological leadership allowed them to pioneer many important innovations, including directional radar technology and advanced speed processing techniques.
In 1997, the employees of MPH, along with the employees of MPH's sister subsidiaries, were able to purchase MPD, Inc. from its stockholders. This transformed MPD into a 100% Employee Stock Ownership Plan (ESOP) company. Since the company is completely owned by its employees, MPH and its sister subsidiaries have a unique commitment to customer satisfaction, since all employees benefit from the success of MPH.
In recent years, MPH has expanded its focus to the broad arena of traffic safety products, such as speed monitoring trailers and signs. It has also introduced new radar technologies including distance measuring (ranging) speed radars and officer safety radars. MPH also grew into the traffic laser market with the purchase of Laser Atlanta in 2012. Learn more at http://mphindustries.com.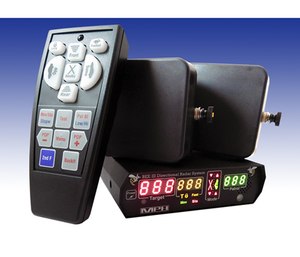 Request more info from MPH Industries
Thank You!