PRESS RELEASE
Shoot Through Bushes, Trees, Fences and Utility Poles with Stalker's LIDAR XLR Auto Obstruction Mode
---
PLANO, Tex. – Clocking vehicle speeds from locations formerly impossible due to obstructions to the line of sight is now possible with Stalker's LIDAR XLR's exclusive C-Thru Technology.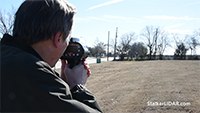 Using the Stalker LIDAR XLR's Auto Obstruction mode, targets that are partially obscured by objects – bushes, trees, fences, utility poles, guy wires, etc. – can be automatically tracked and identified. This gives the officer more location choices when setting up to monitor traffic.
Stalker's C-Thru Technology enables the LIDAR XLR to 'learn' where these obstructions are in its beam and track the target through these interruptions in its reflected signal.  No other traffic enforcement laser has this capability.
The industry's smallest and lightest hand-held traffic laser also features a School Zone/Construction Zone mode as well as Inclement Weather mode. Its anti-jamming software detects and ignores jamming pulses while continuing to provide accurate speed tracking. Plus, it easily shoots through windshields with much greater target range than previously thought possible.
A One-Year parts and labor warranty protects an agency's investment.
The XLR is backed up by a full line of accessories, including: holsters for Harley-Davidson, Honda, and BMW; extra battery handles and a variety of chargers; hard and soft carrying cases; and tripod and shoulder mounting attachments.
At 2.3 lbs. including battery handle, the XLR weighs the least of all the hand-held, gun style, Lidar devices. The Li-Ion battery handle typically provides ample power for two or more shifts and lasts for many years. During its lifetime, the rechargeable battery handle can save more than $2,300 when compared to conventional Alkaline batteries. The ergonomic design, coupled with the light weight and a Heads-Up-Display (HUD), make the XLR LIDAR comfortable and easy to use.
Acquisition time is under 1/3 second with a variable audio tone corresponding to target speed, much like a radar's Doppler tone which many officers are already recognize. There is no tone when no target is being tracked, while a staccato tone increases as the vehicle is initially tracked and the return signal quality increases.
Speeds can be measured from 1-299 mph, 2-481 km/h, and 2-344 knots, all with ±1 unit accuracy. They are waterproof and can operate from -22°F to 140°F (-30°C to 60°C).
The XLR is an FDA/CDRH CLASS 1 Laser Device (Class 1M in Europe) and complies with IEC 60825-1:2007-03. Ed 2.0 which means it is eyesafe by both U.S. and European standards.
The XLR is listed on the International Association of Chiefs of Police Conforming Product List.
Stalker introduced its first LIDAR in 1997. The LIDAR XLR is designed and manufactured exclusively by Stalker Radar, the World Leader in Speed Measurement.  Law enforcement organizations, professional sports teams, and manufacturers around the globe requiring state of the-art-speed measurement applications look to Stalker Radar products for the utmost in quality and value.  These devices are manufactured in the United States Stalker's Plano, Texas,  facility and meet the Buy America Act so federal grant money can be used to purchase these products. 

Request more info from Stalker Street Dynamics do not use this campaign - company now called Applied Concepts
Thank You!