PRESS RELEASE
SRN, Inc. Grant Assistance Program Now Available for Public Safety
---
Bradenton, FL – SRN, Inc. is pleased to announce its participation in a program to link emergency response and public safety departments with grant funding opportunities.
use if there is a picture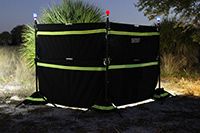 In tough economic times, dollars are scarce and many city and county budgets are being cut. The amount of grant dollars available for law enforcement, fire, and EMS, has remained strong, yet many departments are unfamiliar with the grant process and lack the knowledge or resources to successfully apply for grants.
SRN, Inc. has joined the grant assistance program managed by PoliceGrantsHelp.com to assist those interested in purchasing SRN Privacy, Safety and Security Barriers.
"Grants are a critical source of funding for departments across the country. The purpose of our program is to provide thorough information about available grants and the tools to create successful applications," said Sarah Wilson, Director of the Grants Program. "We are proud to be able to assist with simplifying the grants process for first responders."
use if there is a picture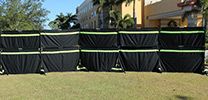 Law Enforcement Agencies interested in obtaining grant assistance can visit the website and fill out a grant assistance form here. 

About SRN, Inc.
The SRN Incident Barrier System provides Privacy, Safety, and Security, by quickly blocking and barricading accident scenes, restricted zones, and hazardous areas from public view. the system is great for First Responders, Emergency Management, Crime Scene Investigation, Traffic Control, and Crowd Control. Proudly serving Law Enforcement, Government Agencies, Military Operations & Disaster Relief.
About PoliceGrantsHelp.com
PoliceGrantsHelp.com's mission is to provide members of the first responder community with a comprehensive resource for grant information and assistance. We feature the most extensive police grant database ever created, with a library of information not only for federal grant programs, but also state, local and corporate grant opportunities.
PoliceGrantsHelp features a grant database that allows users to spend less time searching for grants and more time on research and grant writing. PoliceGrantsHelp also offers users a multitude of grant assistance tools such as: research guidance, grant writing and review, grant resources, tools, news, and much more. Our grant assistance program includes a number of options for police departments seeking assistance in securing grant funding.