PRESS RELEASE
Stalker Radar's virtual display is a game-changer for officer in-car safety
---
RICHARDSON, Texas — Stalker Radar, the unchallenged leader in police radar has once again raised the bar. Its new Virtual Display is a game-changer for police patrol vehicle safety. Stalker has removed the radar display from the dash to the vehicle's touchscreen and programmed the steering wheel auxiliary buttons to control the radar's operation. This remarkable advancement keeps the officer's eyes on the road and hands on the wheel. Removing the physical display from the dashboard also reduces the risk of injury from flying debris in a collision.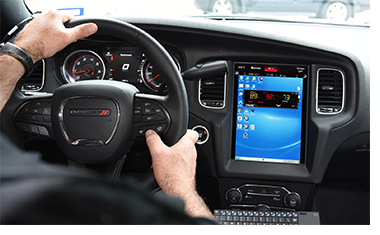 Distracted driving presents an increasing danger, particularly for law enforcement officers. Aware of this risk, automakers are phasing out bulky, obstructive interior hardware, and have redoubled efforts to reduce distractions by developing intuitive and unobtrusive interior vehicle components, built-in large center console displays, improved steering wheel controls, and other hands-free options. Stalker's Dual or DSR Radars with the new Virtual Display seamlessly integrate with these safety enhancements and on-board computer systems. Radar speed data can now be read directly from a touchscreen and radar functions controlled through steering-wheel auxiliary control buttons or the touchscreen. Hand-held remote controls will soon be a thing of the past.
"Stalker Radar's commitment to excellence is exceeded only by our commitment to officer safety. When we saw an opportunity to help officers keep both hands on the wheel in the performance of their duty, we jumped on it. Tonight, a patrol officer will be heading home to be with his family instead of recovering in a hospital bed because his department adopted this advanced safety feature" said Russell Kautz, Stalker's Chief Technology Officer.
The Stalker Virtual Display is compatible with the Uconnect 12.1 system in the 2016½ and newer Dodge Charger Pursuit and with the Havis Integrated Control System (developed by a partnership of Ford, Lectronix, and Havis) in the 2013 and newer Ford Interceptor Sedan and Utility models.
Stalker's Virtual Display software can also be installed in any model vehicle with an existing Windows computer to output the Virtual Display on the computer's screen. Steering wheel controls, if available, can be configured with remote control functions independently.
Stalker introduced its first radar in 1989. The Virtual Display is designed and manufactured exclusively by Stalker Radar, the world leader in speed measurement. Law enforcement organizations, professional sports teams, and manufacturers around the globe requiring state-of-the-art speed measurement applications look to Stalker Radar products for the utmost in quality and value. These devices are manufactured in the United States at Stalker's Texas facility and meet the Buy America Act allowing federal grant money to be used to purchase these products.

Request more info from Stalker Radar
Thank You!