From aviation to autism: The evolution of simulation training
Long used across various high-risk industries, simulation training now prepares law enforcement officers to meet today's challenges
---
Sponsored by VirTra
By Laura Neitzel, Police1 BrandFocus Staff
"Life is short, and art long, the crisis fleeting; experience perilous, and decision difficult." - Hippocrates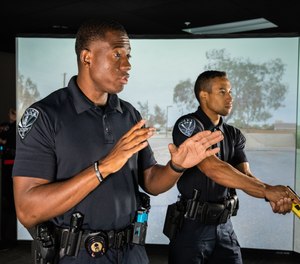 The time to learn to safely land an aircraft with a failed engine, perform brain surgery, take a walk into space or land a rover 171 million miles away is not when you are in the middle of the real-life mission. Many situations are simply too risky to train for in a real-life environment.
Simulation training has long been recognized as a way for students to become proficient in skills with little to no risk of harm to themselves or others. Students can learn and repeat skills until fluent, make and correct mistakes and prepare mentally and physically to respond to high-risk situations.
A brief history of simulation training
The earliest applications of simulation training were in medicine, starting in the early 1700s when a father and son team in Paris introduced obstetrical manikins to train midwives. In 1911, a dollmaker designed an adult-size manikin named "Mrs. Chase" to train nurses in practical skills.
As technology evolved, so did simulation training. In 1929, Edwin Link released the first commercially available flight simulator – the Link Trainer – using mechanical and pneumatic components adapted from technology in his father's organ and piano factory. The Link Trainer, which continued to undergo technological advancements, was used to train over half a million pilots during World War II.
Simulation in the computer age
By the mid-1960s, computer technology had advanced rapidly and began to be incorporated into simulation training. One of the first computer-based simulation systems was the Project Apollo Lunar Landing Training Simulator used by NASA to train astronauts for a moon landing.
The first virtual reality (VR) head-mounted display and tracking system was created in 1968 by computer scientist Ivan Sutherland. The device was so heavy it had to be mounted from the lab ceiling, hence it was dubbed "The Sword of Damocles." Users had to have their head fastened into the fixed device for the head tracking to function.
In 1975, American computer artist Myron Kreuger, a first-generation researcher of virtual reality and augmented reality, premiered an exhibit at the Milwaukee Art Museum. "Videoplace," considered one of the first uses of an interactive, immersive virtual environment, used cameras and projection to allow participants to interact with their own image as well as other participants' images and virtual objects.
By the 1980s, NASA started using virtual reality to train astronauts for space missions. By the 2000s, the U.S. military was steadily using virtual reality simulation training to train soldiers for combat missions.
Merging the physical and virtual worlds
By the early 1990s, as computer graphics grew in sophistication and realism, simulation training and immersive environments begin to merge. The leading edge of innovation came from a surprising/not-too-surprising source: the entertainment and video game industries.
First-person shooter video games like "Doom" used 3D graphics, third-dimension spatiality and multi-player gameplay, all of which are now key components of immersive virtual simulation training.
"Technological developments in the entertainment and gaming industries … extended the capacity of simulation environments to create … immersive, three-dimensional stereoscopic virtual environments, extending the capacity of simulation environments that closely mimic the real world in both context (the situation) and surrounds (the physical environment)."[i]
Use by law enforcement
With the ability of simulation to mimic real-world situations in a risk-free virtual environment, law enforcement became fertile ground for simulation training in the 1990s.
Early forays into simulation training for law enforcement focused primarily on skills that moved easily from the local arcade to the field, like pursuit driving and firearms training. In addition to skills like firearms training that can be practiced at a shooting range, police officers need to train physically and mentally for high-anxiety situations. Simulation training is a natural vehicle for training in not just physical skills, but in high-pressure decision making.
Individual technology-assisted simulation (ITAS) is a category of simulation designed to accommodate individual-participant interaction with a technology-assisted simulation environment. ITAS environments provide for real-time engagement by the participant and has become the de facto methodology for simulation training.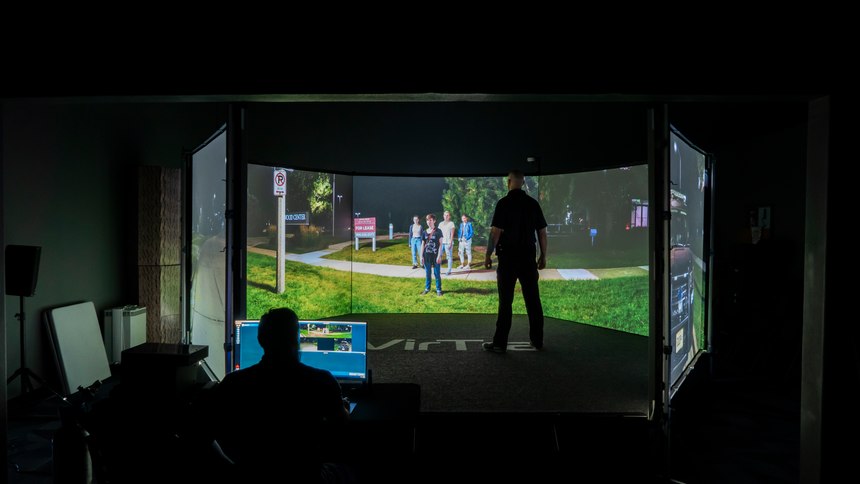 VirTra, founded in 1993, was one of the first virtual reality-based companies in the world and an early pioneer in ITAS simulation. VirTra built its business and reputation on its 300-degree surround screens that displayed scenarios replicating real-world situations for firearms judgement training.
It's been widely indicated that training with anxiety improves performance in real-life stressful circumstances. That's why VirTra designs into its courses the opportunity for trainees to experience failure and learn from it by repeating the experience over and over until their skills are developed and the right decisions and actions are nearly intuitive.
As the technology has evolved, so has VirTra.
"We've seen the evolution of simulators from the original tethered system – where we had the cables that were connected – and big laser discs and grainy video for scenarios," said Lon Bartel, VirTra's director of training and curriculum. "Today, we have high-quality simulators with 4K or 8K projection and the ability to use modified real weapons that have CO2 kits in them, so that with our system, I can remotely jam your weapon. I can cause a different type of malfunction. I can create a situation where it goes into slide lock to simulate that you ran out of ammo and need to reload. You're seeing the technology push forward. And with that, a lot of the training capabilities are pushing forward as well."
Leading with relevance and science
Over its 30-year history, VirTra has continued to evolve its offerings, always led in its efforts by law enforcement needs and based on scientific research. Its high-quality, multibranching scenarios and nationally certified curriculum have covered all topics from judgmental use of force to how to communicate with individuals with autism.
In addition to covering the hottest topics of the day, like Duty to Intervene, Autism and Compassionate Communication, VirTra is on a constant quest to apply latest findings in neuroscience, human performance science, learning methodologies, psychology and other fields to maximize learning and retention.
"You're starting to see the technology continue to evolve. And if you're not evolving with it, it's a problem," said Bartel. "The science of technology and the science of human learning are critical components to make sure that as we continue to move forward, VirTra is providing the best tools and the best methodologies we can so we can make an impact where it needs to happen – at the street level, where the officers are out there every day doing what they need to do."
To learn more about VirTra's simulation training, visit VirTra.com.
Read next: Beyond empathy: Why compassionate communication is a better key to de-escalation

Request information from VirTra
Thank You!