PRESS RELEASE
Action Target to host ultimate law enforcement training camp
---
PROVO, Utah - Action Target Inc., the leading global expert of modern live-fire shooting ranges, is proud to announce plans to hold its annual Law Enforcement Training Camp (LETC) from August 21st – 25th, 2023. Open to all active Law Enforcement Officers and Military Personnel, this training camp provides (4) four full days of world class training from qualified instructors, meant to develop each officer's skills, and advance their careers.
For over three decades, Action Target has combined world-class instructors and a comprehensive training curriculum into a single unforgettable event—the Law Enforcement Training Camp (LETC). LETC is a fast-paced shooting school that equips you with the tools needed to give yourself and your department or agency the next level in training.
"At Action Target, we believe that providing high-quality training for law enforcement officers is critical to ensuring public safety and the well-being of our communities," says Mike Birch, CEO of Action Target. "LETC represents an exceptional opportunity for officers to learn from top experts in the field, to hone their skills, and to share best practices with colleagues from across the country. We are honored to host this event annually and provide ongoing support to law enforcement community."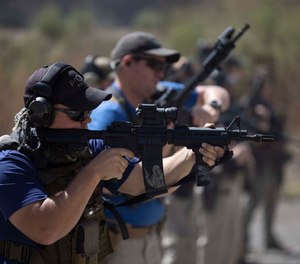 LETC allows officers to select (4) 8-hour courses, taught by highly qualified instructors. The training is designed to be fast paced, content rich and challenging. Each class provides a high volume of repetition and trigger time to ensure officers can accurately develop new methods and tactics. During LETC 2023, attendees will have the chance to choose from the following classes:
Low Light Rifle and Pistol
Advanced Firearms Instructor Techniques for High Performance Shooting
Comprehensive Precision Long Gun
Modern Team Arrest & Suspect Control Tactics with First Aid Trauma
Patrol Structure Clearing
Movement Under Fire
Reactive Shooting
Vehicle Based Dynamics
Red Dot Pistol Transition
Attendees at LETC will also have a chance to participate in the annual Sgt. Cory Wride Memorial Match Shoot, which takes place during LETC. Sergeant Cory Wride, a member of the Utah County Sheriff's Office, was killed in the line of duty on January 30th, 2014, and is honored annually by officers participating in the competition bearing his name.
In addition to training provided during LETC, Action Target partners with sponsors and industry-specific companies to provide networking and promotional opportunities for companies and attendees alike. Attendees will be able to interact with sponsors and vendors throughout the week and at our Welcome Dinner and Vendor Night. Attendees will also enjoy the annual LETC Banquet and Raffle, where each attendee is automatically entered to win items generously donated by our sponsors and vendors. Action Target would like to recognize and thank all event sponsors for their contribution and continued support. Special thanks to key sponsors for LETC 2023 include Seekins Precision, WeKnives, and Commonwealth Ammunition.
Active Law Enforcement Officers can register for LETC here.
About Action Target Inc.
Action Target is the leading global expert on modern shooting ranges. Since 1986, the company has partnered with thousands of range owners worldwide to design, install and maintain world-class shooting ranges, systems, and equipment for law enforcement, military, educational, commercial, and residential markets. Action Target provides range solutions and services for indoor/outdoor shooting ranges, modular ranges, and shoot houses. Products supported include ballistic shooting stall, smart target retrievers, reactive targets, steel and rubber berm bullet traps, enclosure baffles, security systems, lighting, ventilation, Smart Range AXISTM range control system and 3-year warranty on key products. As the industry's broadest end-to-end solution provider, Action Target also offers a comprehensive selection of aftermarket range service including parts, and maintenance programs, rubber trap cleaning, metals recycling, hazardous waste and filter disposal, and an online store for range supplies. Learn more about Action Target at www.ActionTarget.com

Request more info from Action Target
Thank You!