2012 in Review: A gift guide for cops
You want these things, even if you don't know it yet
---
Every year around this time, websites post their annual gift guide — a collection of ideas for your last-minute holiday shopping — and like 2011 and 2010, we've got our own suggestions for your favorite policeperson. 
Eye-Fi
This was on last year's list, but it's such an awesome device it merits mentioning again (and they didn't pay me to say that). Eye-Fi SD memory cards go into your digital camera like any other storage card, but you may never need to take it out again.
That's because the card incorporates a tiny Wi-Fi radio that automatically and wirelessly connects to a network when it comes into range, and downloads any photos that have been recorded since the previous visit. You can set it to connect to only specific networks, or to any public network, where it will download your photos to a web server.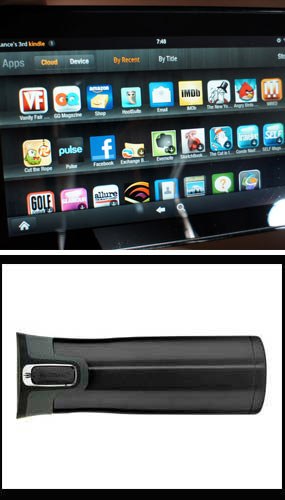 There is even a setting to remove already-downloaded photos from the card so that it never gets full. They aren't all that much more expensive than conventional SD cards, and come in capacities ranging from 4GB to 16GB.
Multi-Port USB Charger
Personal electronics manufacturers are slowly standardizing on mini- and micro-USB cables for charging and synchronization, even if some (cough, Apple, cough) are dragging their feet. These allow users to charge their gadgets from any USB port, although a few require more current than a standard USB port will deliver.
A USB charger that plugs into house power and delivers the necessary higher current eliminates the need to carry around a separate, dedicated charger for each device or keep it tethered to the computer.
This one is inexpensive, can charge four high-demand devices at one time, and breaks down to separate the wall plug from the body of the charger. This two-headed cable charges devices with both mini- and micro-USB ports. It's only a foot long, but if you want a three-foot version, there's one here.
e-Reader or Tablet
Everyone I know who has a Kindle loves it. You can carry around with you just about every book you're ever likely to read, and if you run out of room, you can store the extras in the "cloud." The Kindle models aren't the only choices, of course, but the newer Kindle Fire HD doubles fairly well as a color tablet and will play the thousands of TV shows and movies you can stream from Amazon, and the Paperwhite performs the basic e-Reader functions and has a backlight.
If you're Amazon-averse, the Nook from Barnes and Noble fills the basic e-Reader role.
If you want more versatility, the Nexus 7 from Google will run the Kindle app and thousands of others in the Google Play store.
Go Bags
Call it a man-purse if you must, but these Versipacks from Maxpedition hold everything a cop is likely to need on and off duty.
Unless your (male) cop is very secure with their image, skip the "butt bag" models and go for one that slings over one shoulder. A great accessory for these is an organizer panel from Cocoon Innovations, which holds odd-shaped items securely and keeps them from piling up in the bottom of the bag.
A Really Good Travel Mug
You can get a cheap one in any convenience store, and giveaway versions can be had at most trade shows, if you have the opportunity to go to such things. But, if you want to go first cabin, this stainless steel model from Contigo holds 20 ounces of your favorite beverage and has a unique spill-proof drinking port. The Costco near my house has a pack of two for about the same price as one from Amazon.
Laser Cannon
If you're one of the two people that hit the big jackpot Powerball lottery, you should consider this laser weapon system capable of bringing down aircraft up to 2,000 meters away. I don't have anything against aircraft, but I would like to keep the neighbor's dog out of my yard.
I could also recommend this excellent book, but that would be self-serving and crass, and I would never stoop to such a thing.
I wish you a merry Christmas, Happy Hanukkah, a joyous Kwanzaa, a peaceful winter solstice, or whatever other event you celebrate at this time of year.
Be safe and be well. 
Request product info from top Police Books and Training Materials companies
Thank You!