5 tips for buying the right firearms training simulator for your department
Before you purchase a firearm training simulator, check out these five buying tips
---
Sponsored by Laser Shot
By Sean Curtis for Police1 BrandFocus
A firearm training program is essential for law enforcement and is an excellent investment for departments. Before you buy a training simulator, though, you have to consider several operational needs first.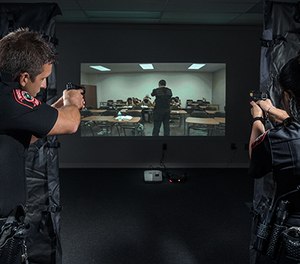 To learn more about what to look for when buying a firearms training simulator and system that can be deployed anywhere or anytime, I spoke with Bill Swierc, head of law enforcement sales for Laser Shot Simulations and former federal agent of the DEA's largest division in charge of the tactical and firearms program.
Over the years he was in the position to order firearms training for his organization and offered these five tips to consider.
1. PORTABLE
The first consideration is portability. Many agencies do not have dedicated spaces they can affix a training simulator to, so it is important that you ask your vendor about how easy it is to set up and deploy on the fly.
Swierc said for many organizations, a portable solution is the only way to go. For example, many agencies share a unit between local, state or even federal agencies.
He said any training system should be able to be packed down into a single Pelican case and transported to a location. True portability refers to fewer individual components to haul around, unpack, and set up. A projector with built-in camera and speakers means fewer cables to run in your training area and a single unit to plug in to the wall to get training.
"A small physical footprint in a firearm trainer is critical: better systems are compact and use a minimum of space within a training environment," Swierc said.
2. DURABLE
The system also should be able to take a beating.
Swierc used older systems for decades when in his LE position. To assess durability, he would kick a firearms training simulator to see how long it took to get back online.  The biggest elements of durability to look for is how easy is the system is knocked offline and how quickly it can be recovered.
"Older systems would take a long time to recalibrate, robbing you of valuable training time," he said.
The system you purchase should be able to withstand being transported from one place to the next without issue. It should also be able to handle the occasional bump or bang.
Bottom line, any trainer you select should fit your needs. If you have a rough environment that is not conducive to the survivability of electronics, find a company that is able to create a product that will operate in that arena. Some providers, like Laser Shot, offer military-hardened units for those unavoidable environments.
3. SCALABLE
The scalable nature of your firearms training system refers to its capacity to fit your needs as your agency grows or as your needs change. This breaks down into two specific areas—hardware and software.
Any firearms training system bought today should allow you to expand your program as your needs grow, Swierc said. This includes being capable of adding new software applications to enhance the training experience and brings home the split-second decisions, with life-altering consequences, facing law enforcement personnel on a daily basis.
"Whether you are adding barriers for added realism or using multiple projectors to create a run and gun shoot house, the best systems are capable of expanding to suit your needs," Swierc said.
This includes asking vendors the following questions:
Can the system offer basic marksmanship drills?
Can you take a student who is a novice and bring them all the way up to decisional training (shoot-don't-shoot) scenarios?
Can the training system simulate your qualification course?
Can the firearms training system improve shooters in need of remedial training?
Does the system handle the various weapons an officer might deploy in a day's service, pistol, shotgun, and carbine?
Can the system replicate real-world problems faced by officers in the field?
4. EASE OF USE
If you consider setting up a system for training and it is a hassle to use, that is probably an indication you will not use it enough. That is why ease of setup is critical.
If you choose the right system, fully integral projectors in firearms training simulators can be as simple as plugging into the wall and calibrating. Swierc said it's ideal to be able to unpack your unit and be firearms training in 5 minutes.
"When a system is easy to set up and use, it will be utilized a lot more, continually providing training in one of your core-liability skills," he said.
5. A GOOD VALUE
It is possible to get all the above for a good price.
A firearms training simulator should be able to save you a lot of money. Savings can be found in areas such as shift coverage for officers shooting; fuel; ammunition; range maintenance; and weapon maintenance.
Swierc cited a study conducted at FLETC (Federal Law Enforcement Training Center) where 100 new shooters were started on firearms instruction via traditional, live fire, methods. Still another 100 were placed on laser-based, simulator training. All students had roughly a week's instruction with the same amount of draw and fire repetition before they were sent to qualify.
"The study found the students from both groups qualified at roughly the same rate—validating laser training as a cost-saving measure," he said.
A firearms training simulator should be portable, durable, easy to use and scalable—as well as a good value. Keep all these critical features and the questions you need to ask in mind when talking to vendors about purchasing a system.

Request product info from top Police Training Gear companies
Thank You!