Why Laser Shot's firearm training adds flexibility and scalability to your training program
SimRange™ and C/CAT are portable, user-friendly, and ever-relevant firearms training tools
---
Sponsored by Laser Shot
By Sean Curtis for Police1 BrandFocus
The gun range is ideal to practice marksmanship and weapon manipulation, but it has not evolved beyond its limitations over the years.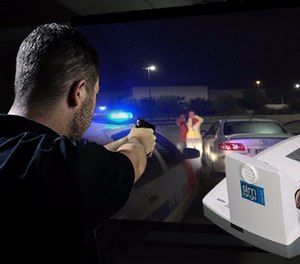 Besides being expensive to operate and maintain, the amount of real-world applicability comes up short.
Laser Shot has two products—SimRange™ and C/CAT—which blow those limitations open like a breaching charge on a door. The features on these products make them portable, user-friendly, and ever-relevant firearms training tools.
POWERFUL PROJECTOR
One piece of the product is a projector that casts images onto a wall or screen. The images can be shooting simulations or scenarios.
Students stand in front of these images and shoot at them with guns that issue laser beams. The projector detects the accuracy of the shots and the images react accordingly to the situation, said Dr. Shawn Arseneau, director of research and development for Laser Shot.
Arseneau said it also has an innovative laser detection camera.
"We're one of the first companies out there to come up with an integrated laser hit detection camera right inside the projector," he said. "You literally put it on the floor, run the calibration software, and you're good to go."
In addition, the sound system is built into the projector, so there is less equipment to worry about.
Arseneau said the company realized many agencies did not want a static setup where their products were bolted to the ceilings, walls and floors. He also said there is a focus on the instructors being able to set up the entire system within a matter of minutes and begin training.
SHORT-THROW PROJECTOR
One of the greatest advantages of the SimRange™ is the short-throw projector.
Arseneau said the unit can be set up less than 3 feet from the screen, maximizing usable room space, while at the same time providing HD quality images.
"This helps students by preserving the immersive experience when they don't encounter their shadow blocking the training," he said.
AFTER-ACTION REVIEW
An essential part of the system is using the video training and reviewing the performance of students via the After-Action Review feature.
This feature allows instructors to evaluate how the student performed during simulations or scenarios, Arseneau said.
The student's actions are displayed on the screen through playback, allowing for discussion, correction, and instruction. He said this maximizes the return on investment by allowing teachers to focus on student performance and work toward lesson objectives.
STELLAR SOFTWARE
Arseneau described the training software behind SimRange™ that is flexible and scalable.
He said difficulty levels can increase through a progression as the students grow in skill. Initial levels include basic marksmanship, target practice and ramp up to multiple targets or varied lighting situations.
Upper levels include full-blown law enforcement scenarios where judgmental training software helps prepare officers for real-world encounters. Additionally, the SimRange™ software utilizes virtual ballistics, calculating ballistics coefficients and bullet drop over distances.
The SimRange has around 929 scenarios that are generated from discussions with subject matter experts, allowing for heightened realism. These scenarios come in different categories such as concealed carry, traffic stops, hostage situations and more.
Whatever scenario isn't covered can be created by the company's software team, available 24/7.
"The system can grow with the agency's needs," Arseneau said.
C/CAT
Used in conjunction with the SimRange™ or other Laser Shot products, the Cover Concealment Angle Trainer Barricade System (C/CAT) enables firearms trainers to simulate real-world barriers, such as doors, corners, hallways, and more.
The entire C/CAT is portable and can be packed up into a single case to be moved and redeployed somewhere else. Consisting of two, 2" x 2" hook and loop panels, a top and bottom, the C/CAT comes with different sections. Different panels can be swapped out to create varied experiences and challenges for shooters.
The barriers enable students to fire from a particular height, through windows, around corners and more, Arseneau said.
"It's a stand-alone carrier system that takes a minute or two to put together and gives trainers a lot of choices," he said.
For example, entire shoot houses with multiple screens can be set up, creating various experiences based upon the course of fire. Arseneau said Run and Gun ™, Laser Shot's latest software, allows trainees to practice IDPA, IPSC, steel targets, poppers, or decisional shooting scenarios while moving from room to room and engaging each new situation presented on the screen within that room.
"You can use the C/CATs in countless configurations," he said.
Laser Shot's SimRange™ and C/CAT puts training where and when officers need them. They are portable, user-friendly, and ever-relevant firearms training tools for agencies and its officers.

Request product info from top Police Training Gear companies
Thank You!