PRESS RELEASE
Blauer Tactical Systems Announces the FX Simunition Hgh Headgear Conversion Kit
---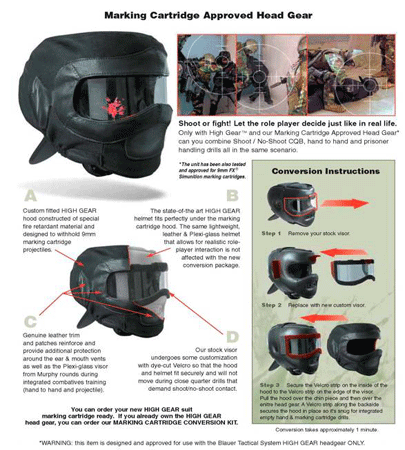 FX SIMUNITION APPROVED HIGH GEAR HEADGEAR CONVERSION KIT
The 25% discount applies to the MARKING CARTRIDGE READY (MCR) HEADGEAR ONLY
Item # HG-MCR (see catalog)
Download our color brochure FREE.
For more information, go to: HIGH GEAR on-line
You'll see the link for the PDF download as you scroll down.
Watch HIGH GEAR in action, to view 2 short demo videos, go to: HIGH GEAR videos
If you have any questions on our products or services or require procurement assistance, please email highgear@blauertactical.com

Request more info from Blauer Tactical Systems
Thank You!